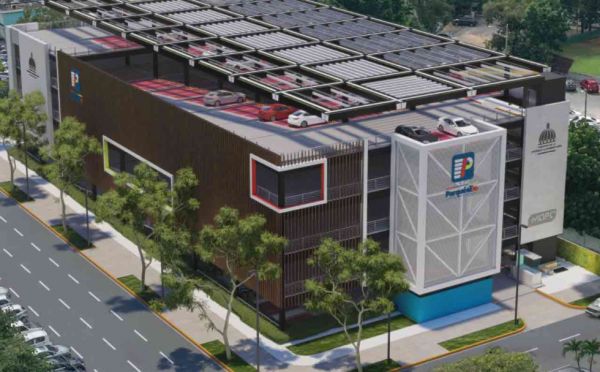 President Luis Abinader was recently in the Colonial City where he inaugurated the La Atarazana mechanized parking building, with an investment of RD$339 million. The parking building has capaity for 200 vehicles in four levels.
Parqueate RD is a new venture-trust that is working closely with the Ministry of Public Works to build these mechanized parking lots in heavy trafficked areas of major cities.
The plan calls for the construction of 21 parking areas with 200 to 800 spots in the next four years. The parking buildings will have four to six levels. The parking buildings will be built first in the National District, Santiago and San Cristobal.
The next to be built will be two five-level parking buildings in Centro de los Heroes, a major government office area. One will go up on the parking lot of the National Institute of Hydraulic Resources (Indrhi). It will have 480 parking spaces. The second will be located behind the parking of the Ministry of Labor, on land that belongs to the Supreme Court of Justice and will have capacity for 298 vehicles.
Other parking spots will be located at the Quisqueya-Juan Marichal Ball Park at the corner of San Cristobal and Tiradentes streets. It will have capacity for 580 parking spaces.
The plan is that parking fees be deposited in the Fideicomiso RD-Vial and be used to maintain the parking buildings and build others.
Read more in Spanish:
El Nuevo Diario
8 September 2021