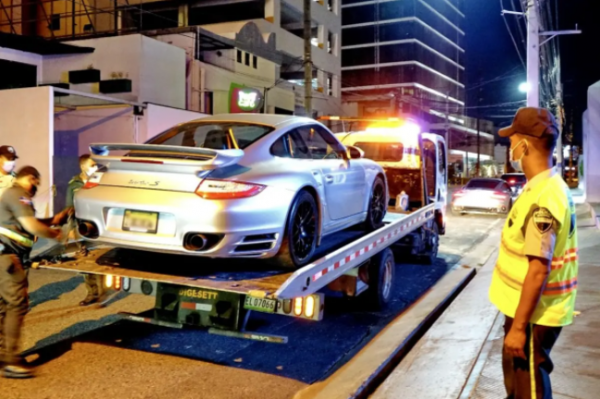 The Land Safety and Transport Agency (Digesett) and the National Police carried out a late night operation on Sunday, 12 September 2021 at Abraham Lincoln Avenue and surrounding streets. As reported, Digesett and the Police detained 28 luxury vehicles for violating Transit Law 63-17.
Porches, Ford Mustang, Range Rover, Mercedes Benz, BMW (car and pickup), Audi, Lexus, Dodge and Volvos were among the brands of vehicles retained.
The director of Digesett, Brigadier General Ramon Antonio Guzman Peralta said that the drivers that violate Article 191 of Law 63-17, regarding noise pollution are being referred to the Ministry of the Environment for submitting to justice.
The director of the Police said the operation will be repeated regularly in response to requests from the residents and businesses in Piantini, Serallés, Naco, La Julia and Paraiso neighborhoods who have complained about the vehicles traveling at night at high speeds. The residents have for years complained they are awakened by the noise of the cars when racing and the anxiety caused by the frequent accidents that happen in the area, many the result of the speeding vehicles.
Guzmán Peralta reported that many drivers have been fined for speeding, drunk driving, driving without a license plate or license, violating red lights, parking on the sidewalks and producing noise.
The Police said that agents also eliminated the practice of parking on the sidewalks. Several auto-appointed men were charging for the "parking spaces." People had to risk their lives walking in the middle of the street, given that the sidewalks were being used as parking spaces.
Read more in Spanish:
Hoy

13 September 2021