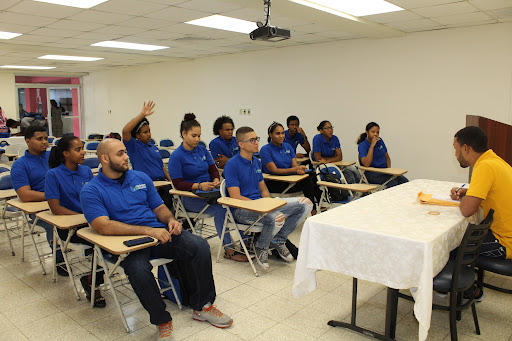 Diario Libre reports that around 1,000 graduates of the Teachers of Excellence Program will be taken into account and hired by the Ministry of Education (Minerd) for the next school year. The contract would be for a year subject to assessment and the presentation of the degree by the recent graduates. The students had been excluded from the contest to hire public school teachers for the 2021-2022 school year because they had pending their formal graduations to receive their degrees. The students had completed their studies at Intec, Isfodosu, Unibe and Unphu.
Now that a majority of teachers did not make the minimum scores during the recent assessment, the Education Cabinet met to find a legal solution to the impediment for the Teachers of Excellence Program students to be hired. The government financed the program but the students were impeded from participating in the recent assessment to hire the public school teachers for the school year that starts with in-person learning on 20 September 2021 nationwide because their universities or higher learning centers had not carried out the graduation ceremony, a requirement for the issuing of a degree.
Diario Libre reports that the recent assessment results show that only 9,000 of the 71,514 applicants to fill 19,181 positions reached the minimum scores needed. There is the expectation, the graduates of the Teachers of Excellence Program would score better and be better prepared.
Reports are that the minimum scores could be reduced to hire enough teachers for the new school year.
The Education Cabinet met with the President Abinader to discuss the issue on 14 September 2021. Present were Education Minister Roberto Fulcar; of Higher Education Minister Franklin García Fermín; the director of Infotep, Rafael Santos; the director of Isfodosu, Nurys González Durán, and representatives of Acción Empresarial para la Educación (EDUCA), of the Dominican Initiative for Quality Education (IDEC), Inicia Educación and of the institutions of higher education.
The Teacher Competitive Examination took place last week with reports of thousands of failed teachers and complaints of leaks of the tests, technical failures and poor organization.
The Ministry of Education says it needs to hire for the public school system:
6,055 primary school teachers, 2,275 foreign language teachers, 1,525 physical education teachers and 1,483 kindergarten teachers are needed. 1,454 high school teachers of Natural Sciences, 1,359 of Mathematics, 1,268 of Spanish Language and 1,063 of Social Sciences, 392 of Special Education, 1,330 counselors and 977 school principals.
Read more in Spanish:
Diario Libre
DR1 News
15 September 2021