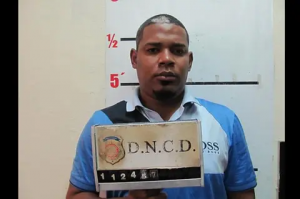 Known as the cacique of the eastern region, Juan José de la Cruz Morales (El Don, Wander), is expected to be the first Dominican linked to the Operation Falcon drug trafficking and money laundering network to be extradited to the United States to stand for drug trafficking charges. He was arrested and is in jail in the maximum security wing of Najayo Jail. He submitted a request for voluntary extradition to the United States to the Supreme Court of Justice. It is now known that there was an arrest warrant for De la Cruz Morales in effect since 2019, but the past authorities did not execute it. President Luis Abinader needs to sign the extradition decree.
As reported, De la Cruz Morales is the owner of the three fuel stations in the eastern municipality of Miches, El Seibo province. During the Operation Falcon prosecutor raid last week, US$4.5 million in cash was found in one of the gasoline stations seized by the authorities. De la Cruz Morales also owns luxury vehicles, high caliber weapons, and millions in cash and luxury properties that are now under state protection. The US authorities implicate De la Cruz Morales in the seizure of 1,786 kilos of cocaine in Puerto Rico on 2 November 2016.
In the charges against him, De la Cruz Morales is described as the head of operations of the structure and an experienced boatman dedicated to organizing illegal trips. He would have entered the world of drugs more than a decade ago to become one of the most important drug traffickers in the eastern region.
Juan Jose de la Cruz Morales's brother, José Alejandro de la Cruz Morales is also under arrest.
Read more in Spanish:
Listin Diario
Hoy
15 September 2021