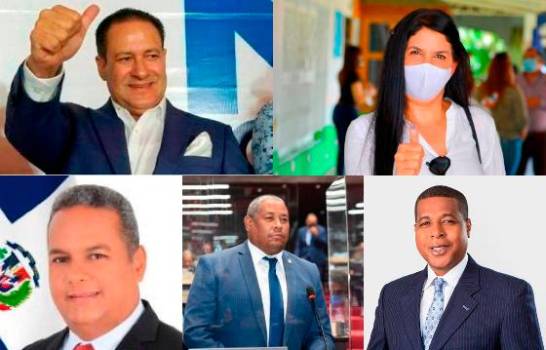 Deputies Hector Dario Feliz Feliz (PRM-Pedernales), Rosa Amalia Pilarte (PRM-La Vega), Nelson Marmolejos Gil (PRM-Santiago), Miguel Gutierrez Diaz (PRM-Santiago) and Faustina Guerrero (El Seibo-PRM) are under investigation for ties to drug trafficking and money laundering networks.
During the Tuesday, 15 September 2021 Chamber of Deputies work session, legislator Hector Darío Feliz defended the "errand" he was out late on the evening of 8 September 2021 when he gave "a ride" in his vehicle to his close friend Juan Maldonado Castro. Maldonado Castro was sought by the National Drug Control Agency and Public Prosecutors for alleged participation in a major drug trafficking ring, the Operation Falcon. Feliz said he was giving a ride to a long-standing legislator, referring to the four-terms Maldonado has had in Congress.
Maldonado Castro is now under arrest for his ties to the Operation Falcon drug trafficking and money laundering network. At the time of his arrest, he was the director of the Comunidad Digna welfare agency in the Abinader administration. He would be suspended. His wife, Faustina Guerrero (Gray Maldonado) was voted deputy in Congress for the ruling Modern Revolutionary Party (PRM) for the 2020-2024 term.
Maldonado Castro was arrested when driving along with deputy Hector Dario Feliz (PRM-Pedernales) late in the evening on Wednesday, 8 September 2021. Prosecutor Yeni Berenice Reynoso said Maldonado had sought the cover of the parliamentary immunity of Feliz to escape prosecution. Inside the vehicle several luxury watches and cell phones were impounded during the arrest of Maldonado. Feliz was not arrested at the time because of his parliamentary immunity but is under investigation.
The prosecutor investigations are expected to turn up more cases of alleged ties of legislators in drug trafficking networks. As explained, the high cost of politics has resulted in drug trafficking in many instances deciding who gets elected. Political parties have distanced themselves from the accused. The Penal Code that passed last session in the Chamber of Deputies excluded political parties from criminal charges. A bill for forfeiting assets acquired through illicit operations has languished for years in Congress.
Read more in Spanish:
Listin Diario
N Digital
Noticias SIN
Noticias SIN
DR1 News
15 September 2021