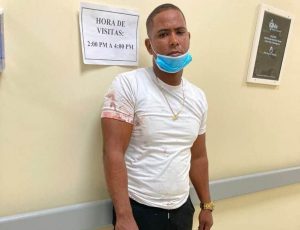 Judge Leomar Cruz Quezada for the second time has postponed the hearing for preventive custody measures against suspended Police corporal Janli Disla Batista. The Public Prosecutor's Office is accusing Disla Batista of voluntary homicide and criminal association. The judge gave the defense lawyers until Friday, 8 October at 4:30pm after motorcycle driver Rafael Castillo Nova was added to the case. Castillo Nova admitted to driving the motorcycle that delivered Disla to where he ambushed and shot at 36-year old architect Leslie Rosado. Castillo Nova has argued that Disla Batista forced him at gunpoint to give him the ride in pursuit of Rosado. Rosado was accompanied in a SUV by her 15-year old daughter.
In another development in the case, five days after the crime involving the policeman, the director of the Police Eduardo Sánchez briefly referred to the case.
"We, as an institution, regret this type of incident, where this young woman lost her life. We do not tolerate this type of act, neither from active police officers, on duty, nor from off-duty police officers", he stated.
A first official statement from the Police had carried the version of involuntary homicide and he explanation given by Disla Batista that Rosado had crashed him when he was riding with his wife and children, and that he went in her pursuit after she didn't stop.
The Public Prosecutors have discarded this version indicating that there is no evidence in the motorcycle, the vehicle, Disla Batista or his family of any damages or injuries that would corroborate this story.
Police director Sanchez says that police patrols that were assigned to the curfew control actions will now be back on preventive patrols.
Follow the story in Spanish:
Noticias SIN
N Digital
Noticias SIN
Hoy
Noticias SIN
8 October 2021