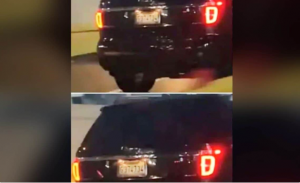 Leslie del Carmen Valerio Jimenez, accused of driving in the wrong direction on 27 de Febrero Avenue and injuring three people was allowed to post bail for RD$1 million. Surveillance video caught when she entered the 27 de Febrero tunnel driving in the opposite direction. The video went viral on social media, leading to her capture
The Special Peace Court of Transit of the National District also issued an impediment for her to leave the country without judicial authorization as the case is heard in court.
Judge Lissa Veras Rivas is assigned the case. Preliminary investigations by the prosecutors indicate that the accused committed the crime at 2:30am when Valerio Jimenez was speeding and driving on the wrong way on 27 de Febrero Avenue at the overpass of Núñez de Cáceres Avenue.
Prosecutor Yesenny Vargas said that as a result of Valerio Jiménez's reckless driving, Carlos Erick Morales Brache and Mariel Vásquez Olivo were injured. These needed the assistance of the National Emergency System 9-1-1.
The third victim is Carlos Ariel Zabala, who was driving the vehicle that was hit by Morales Brache's car when he made a turn to avoid a head-on collision with the victim's car.
Valerio Jimenez is accused of violating articles 220, 268, 287.2, 291 and 303 of Law 63-17, of Mobility, Land Transportation, Transit and Road Safety regarding driving recklessly at high speed, resulting in an accident that causes injuries or death and not rendering aid to the victims, and fleeing the scene.
Read more in Spanish:
N Digital
8 October 2021