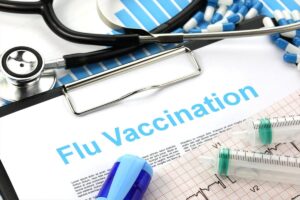 The Abinader administration has undertaken an effort to provide flu vaccinations for free to those who want them. About a week ago, the Expanded Program of Immunizations (PAI) began to provide vaccinations to the public. Initially, the population that is considered to be most at risk, those over 65, and those people with a chronic illness are being vaccinated.
The head of the PAI program said that nearly half a million doses are available at about 700 regular vaccination stations around the country, such as the public hospitals, maternity centers, and primary care centers.
Dr. Nicole Batlle, the head of the program, mentions the vaccination centers open at public hospitals such as the Dr. Arturo Grullon Regional Children's Hospital in Santiago, the Plaza de la Salud in the National District, the Robert Reid Cabral Children's Hospital in the National District, as well as the Armed Forces Hospital, the Ney Arias Lora hospital and many more. You can click the link below to find a vaccination center close to where you live or work.
Read more in Spanish:
Diario Libre
Diario Libre
Listin Diario
22 November 2021