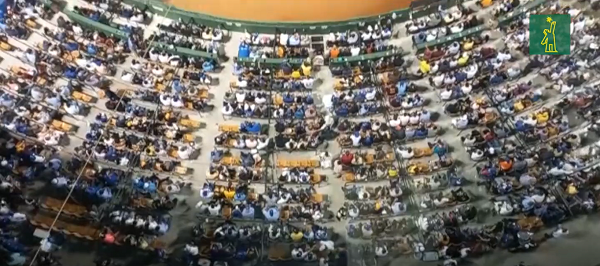 A person would have to be deaf, mute, and blind to not know that this is the winter league baseball season in the Dominican Republic. It is what is happening for the baseball-crazy people of this country.
As it so happens, this year's tournament is very competitive and features many MLB stars, as well as well-known fixtures from years past. As proof of this, the Escogido team just signed Aaron Hicks, an outfielder for the New York Yankees. He will probably face Kutter Crawford, a Boston Red Sox pitcher who is on the 40-man roster who pitches for the Estrellas Orientales. That is how this year is going.
As a result, the stadiums are seeing very high attendance. Games between major rivalries (Aguilas-Licey; Licey-Escogido; Estrellas – Toros for example) are seeing the grandstands packed with fans.
But the Ministry of Public Health, which had reached an agreement with the Dominican Professional Baseball League (Lidom) to limit attendance to somewhere between 50% and 70% in the five different stadiums, is not happy with the growing reality that baseball fans will not be denied the opportunity to see their teams play. In a recent game at the Quisqueya Stadium, a game between the Aguilas Cibaeñas and the Tigres del Licey, the "official" attendance was put at 7,246, but this is the nation's largest ballpark, and photos and videos taken by reporters showed that it was packed to the gills.
And certainly, the same two teams had a similar sold-out crowd at the Cibao Stadium a few days later. There, the Public Health officials checked fans for vaccination cards, patrolled the aisles to see that everyone had their face masks on (except when eating, drinking or voicing support for their team), and the huge display in center field posted messages urging the use of the face masks while TV camera shots of those not following the protocol were there for everyone to see. No social distancing was observed, and the Public Health officials called for an urgent meeting with Lidom.
However, no new measure have been announced. To really make matters worse, there is no clear favorite this year. Last year's champions, the Aguilas, are currently in third place, and last week's cellar dwellers are currently in first place.
In South Korea, a recent spike in Covid-19 cases is in part attributed to the enthusiasm of fan-going baseball crowds that are also filling the baseball stadiums in that country.
Read more in Spanish:
Diario Libre
Voa News
22 November 2021