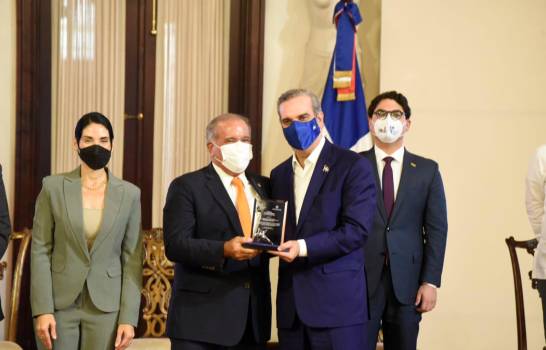 President Luis Abinader was present for the Monday, 22 November 2021 Solidarity Awards 2021 delivered to small business by the BCIE at an event at the Presidential Palace.
During the event, Abinader highlighted that micro and small businesses represent 98% of the country's businessmen and contribute 38% of the economy's GDP (Gross Domestic Product). Likewise, he emphasized that small businesses generate 642,000 formal jobs and generate more than 2.2 million jobs if the informal ones are included.
These numbers, according to the President, make small business the pillar of the national economy. He stressed the potential of small business to dynamize the economy.
At the event held at the Presidential Palace, 18 businesspeople were honored with the awards presented by the Central American Bank for Economic Integration (BCIE) to micro-entrepreneurs who excelled in seven categories, such as digital innovation, environmental care, resilient entrepreneurship, artisanal creativity, agricultural development and family micro-enterprises.
The main prize winner went to Lilian Fugil, an entrepreneur in the pastry area who set up her family business. Carlos Manuel Mercado, a man who lost his legs in a traffic accident, started a business to manufacture and sell brooms, and won first place in the Resilient Entrepreneur category.
CBIE executives emphasized that the institution has made available US$650 million in financing in Latin American countries, mainly in the SME sector.
In the Dominican Republic, CBIE is looking at financing public private alliances, including the Amber road to Puerto Plata from Santiago.
Read more in Spanish:
Diario Libre

23 November 2021