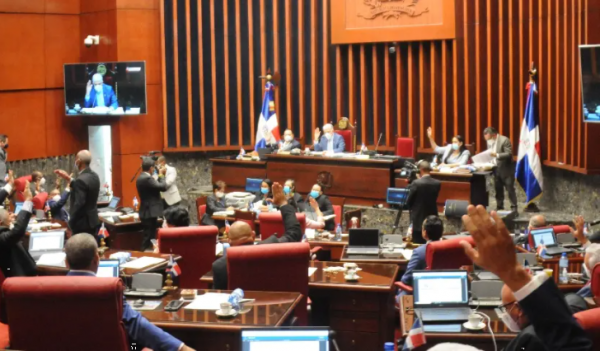 Shortly after he was named Minister of Defense, Major General Carlos Diaz Morfa sent a letter to the Chamber of Deputies requesting the reinstatement in the Penal Code of the special jurisdiction for crimes committed by the military. The current Penal Code orders the military to be judged by ordinary justice.
The Senate has already passed a first reading accepting to give privileged jurisdiction to criminal acts by the military (Art. 303). In a previous legislature, the Penal Code bill had passed in the Chamber of Deputies also included the exception. The Senate bill once it passes the second reading will be sent to the Chamber of Deputies for passing.
Alianza Pais deputy Jose Horacio Rodriguez has signed on to a dissident Penal Code protesting the inclusion of the clause. He has been very vocal in his strong opposition to the special military courts.
The matter is especially relevant now that the Administrative Corruption Prosecution Office (Pepca) has charged several high military officers, including four active generals of major corruption in government. Pepca spokespeople say several more are under investigation and could be charged.
Rodriguez criticizes that the Penal Code reform bill contemplates the creation of a military court to judge irregularities committed by the military.
This at a time when at least 10 military officers, including active generals, have been involved in corruption crimes, and are being tried in ordinary justice.
Rodriguez said the military courts were conceived only to hear disciplinary offenses of the members of the military corps.
"We understand that everything that applies in the Penal Code, applies to civilians and the military," he emphasized while warning that when the bill reaches the Chamber of Deputies, he will continue to reject the proposal.
The coordinator of Citizen Participation, Sonia Diaz is emphatic that the military should be submitted to the ordinary courts if they commit common crimes, like all persons.
However, the Dominican Liberation Party (PLD) senator for the province of Elías Piña, Iván Lorenzo, favors the special courts. "It is necessary that this be returned to military jurisdiction," said Lorenzo.
The majority of the legislators have been known to be lenient to powerful interest groups, such as would be sectors of the military that are lobbying for their vote.
Read more in Spanish:
El Dia
Diario Libre
Noticias SIN
Diario Libre
Hoy


23 November 2021