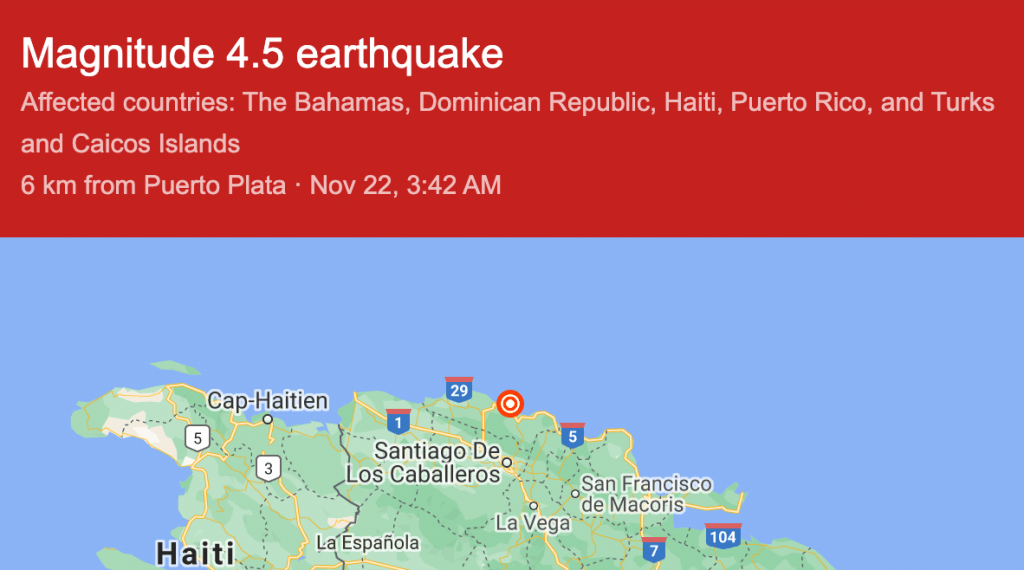 Thirteen Puerto Plata public schools that suffered damages following the 4.5 magnitude earthquake of Monday, 22 November 2021 at 3:42am. The center of the earthquake was 6 km from Puerto Plata.
The Ministry of Education said a team of four engineers and an architect inspected the cracks of the schools. The director of the Puerto Plata educational district confirmed some of the damages to the physical structures of educational centers were considerable.
Among those affected were Hermanas Mirabal school in Sosua, San Antonio María Claret and Virginia Elena Ortea in Puerto Plata city. In Imbert, the Roselia Hernández and Vuelta Larga schools.
There were also damages in Luperón to the Rolando Erickson school in the Ranchito de Los Vargas community and in Altamira, the La Escalera Arriba, Daniel Vargas and Río Grande Abajo schools suffered cracks.
In Villa Isabela, the schools Clara Elena Rodríguez and Hermógenes Sánchez in the municipal district of Estero Hondo were damaged.
The report of the educational authorities of Puerto Plata states that the only area of this Atlantic province where the schools were not affected was school district 11-06, which includes the municipalities of Los Hidalgos (El Mamey) and Guananico.
The regional director for the Ministry of Education in Puerto Plata, Sarah Cruz said that only one of the 13 schools closed to in-person learning. As reported in Diario Libre, she said that the cracks were in areas that do not represent dangers to students or teachers.
In 2003, another earthquake, but of greater magnitude, affected several schools in Puerto Plata.
The tremor has caused major concern in the area because of the damages caused to the schools when the earthquake was of moderate intensity.
Read more in Spanish:
El Caribe

Diario Libre
24 November 2021