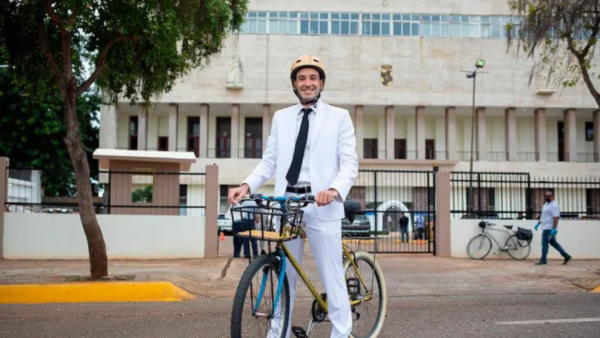 Capital city councilman Mario Sosa (PRM-National District) is complaining that the Ministry of Public Works is building sidewalks where only one person can pass. Sosa says the sidewalks violate Pedestrian mobility regulations, as reported in Noticias SIN.
In a video on his Instagram account, the alderman maintains that the one-meter of sidewalks under construction by the Ministry of Public Works do not leave room for two people to walk next to each other, nor for a person in a wheelchair and there is no room for trees.
He denounced on Wednesday, 24 November 2021 that the construction of sidewalks carried out by the Ministry of Public Works and its contractors violates the Pedestrian Mobility Ordinance that calls for a minimum width of 2.4 meters and the Law of Urbanizations and Public Ornament No. 675-44 with the recent construction of sidewalks of one meter wide.
"The Ministry of Public Works is wasting the more than RD$4 billion allotted for the sidewalk construction and rehabilitation program, just as the governments of the last two decades did," he denounced.
As an alternative, the alderman proposes that the bidding for the sidewalk renovation program be cancelled and that a commission be created to rethink the costly investment, when there is still time to make the change.
"We call on the Ministry of Public Works to cancel this tender whose design violates current laws and for President Abinader to create a committee, to which I want to belong, to rethink the investment in sidewalks," said Sosa.
Follow the story in Spanish:
Noticias SIN

Listin Diario

25 November 2021