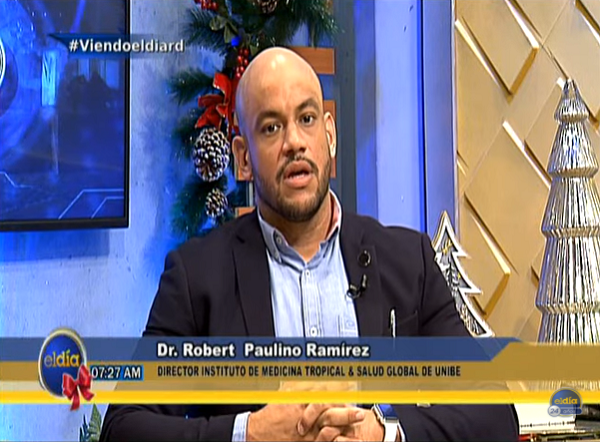 The director of the Institute of Tropical Medicine and Global Health of the Iberoamerican University (UNIBE), Dr. Robert Paulino Ramirez understands that the current vaccines in theory should be effective against the new Omnicron variant. Dr. Paulino Ramirez was interviewed by Huchi Lora and Carolina Santana for the El Dia TV news program.
"We have to understand that we are still in the pandemic, it is not over," he stated. He criticized the local complacency with the virus when there are sufficient vaccines.
He said the government goal of 70% with two doses is not enough. He says the country needs to reach 80 to 90% vaccination levels.
He said the booster shot is recommended six months after the first two doses.
He remarked that the population should start thinking everyone may need to get an annual vaccine for Covid-19 in the same way people are recommended to get the influenza vaccine.
He said scientists have not yet been determined if the new variant is more lethal. He said the mutant variations detected so far are more related to the variant's capacity to spread more rapidly. Reports are that those that fall ill suffer from relatively mild symptoms.
The first cases were identified in Botswana and then it spread to South Africa.
He said the concern is that the variant is very different from the previous ones and thus would have surged in September and October of this year. He said it has been circulating for a while, even when only now has it been identified. For this reason, he says the scientific community is against international border closures.
He says the variant surged because of the inequity of distribution of vaccines around the world. He said the international collaboration has not been happening. Africa is a region where vaccine coverage is very low. He said the solution to the pandemic needs to be global.
He said the delta variant continues to be the most concern that is now affecting populations in Europe with the new spread.
Reports so far indicate that the Omnicron variant has different symptoms compared to the previous strains. Among these are scratchy throat, no cough, sore muscles, tiredness, no loss of taste or smell, and headaches. These show up two to 14 days after the person is exposed to a sick person.
Follow the story:
El Dia

DR1 News
CNBC
1 December 2021