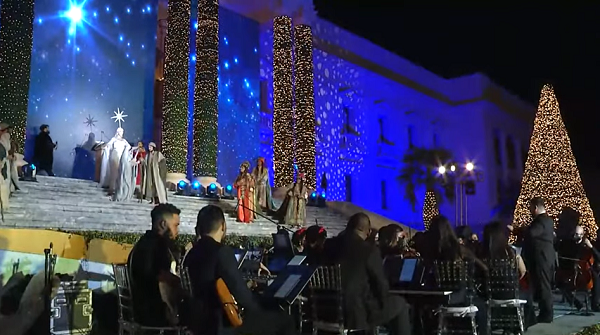 President Luis Abinader, First Lady Raquel Arbaje, Vice President Raquel Peña and a group of children, lit the Christmas tree and lights in the gardens of the Presidential Palace on Tuesday, 1 December 2021.
Speaking at the event, President Luis Abinader highlighted the strength, resilience, unity and faith in God of the Dominican people.
He said that despite the terrible pandemic, the country is much better off than before and on the road to economic and health recovery. He had praise for the health care workers and invited Dominicans to celebrate with moderation this Christmas.
December starts with a record low of Covid-19 cases, and the dissipating of a mild fourth wave of the pandemic. Yet, global health authorities are on high alert for the start of the spread of the new Omicron variant.
First Lady Raquel Arbaje said that artisans participating in the government program Manos Dominicanas (Supérate) delivered 687 pieces of handicrafts to decorate the tree and the Presidential Palace.
Administrative Minister of the Presidency, José Ignacio Paliza said the Presidential Palace would soon reopen for cultural tours. The date would be announced.
Father Kelvis Acevedo of the San Rafael Church and Pastor Dio Astacio of the Christian Church gave the blessings. The musical "Magic Christmas in Concert" was presented, produced and directed by Luis Marcell Ricart, director of the Gran Teatro del Cibao. The event was telecast live on Channel 4 and social networks.
Read more in Spanish:
Presidency

2 December 2021