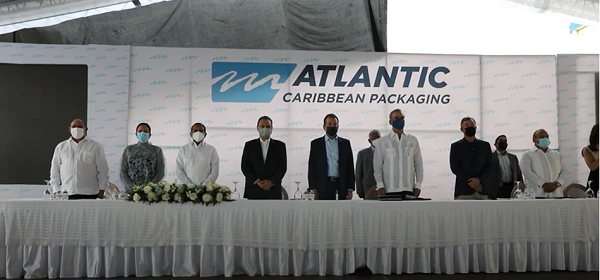 President Luis Abinader was in Boca Chica on Wednesday, 1 December 2021 for the groundbreaking of the second phase of the Atlantic Boca Chica Free Zone industry. The US company is expanding its industrial park in Los Tanquecitos, Boca Chica municipality. The new US$15 million phase is expected to be in operation in the first quarter of 2022. An additional 350 people will be employed.
The company sells to apparel companies, food processors, pharmaceuticals, medical device companies and cigar manufacturers. It offers a broad range of products, from papers to tapes, bags, labels, offset printing, and die cutting.
The company is the largest cardboard converter in the world. It prints labels, folds carton packaging and carries out specialized contract packaging for major consumer product companies. The company serves a wide variety of businesses including industrial suppliers, electronic and fast-moving consumer goods (FMCG).
Also present was Industry & Commerce Minister Víctor (Ito) Bisonó; the president of the Industrial Free Zone Park Atlantic Boca Chica and Atlantic Corporation, Wes Carter; the regional vice-president, Sebastián Tine and the regional director, Yahaira Girón.
The new facilities are under construction in a space of 90,000 square feet.
The president of Atlantic Corporation, Wes Carter spoke of the challenges in the global supply chain and that companies are very focused on the carbon footprint to move products around the world. He said the United States will continue to rely heavily on strategic alliances with countries like the Dominican Republic.
Carter also spoke of the company's interest in being green. "Atlantic is also very focused on sustainability in packaging, and we look forward to collaborating with companies in the Dominican Republic to find ways to create circularity, because we should all focus on a high level of recycling and investments in sustainability to keep this island and all others pollution free," he stated.
Atlantic Caribbean Packaging began operations in the Dominican Republic in 1999 to distribute specialized packaging materials for general industry. The company then moved into the production of packaging with extensive converting capabilities for medical foam, electronics, textile cardboard inserts and label manufacturing capabilities up to 10 colors.
It has estimated annual sales of more than US$50 million, more than 400 employees and its industrial park currently occupies 125,000 square feet in buildings for the manufacture and distribution of goods.
Atlantic Caribbean Packaging is one of the main suppliers of the industry in free trade zones and exports to Jamaica, Trinidad, Barbados, Puerto Rico, St. Lucia, Curacao, Guatemala, United States, Belize, Guyanas and Haiti, and has become a major supplier of these medical products in the pandemic.
Read more:
Atlantic Packaging
N Digital
Acento
2 December 2021