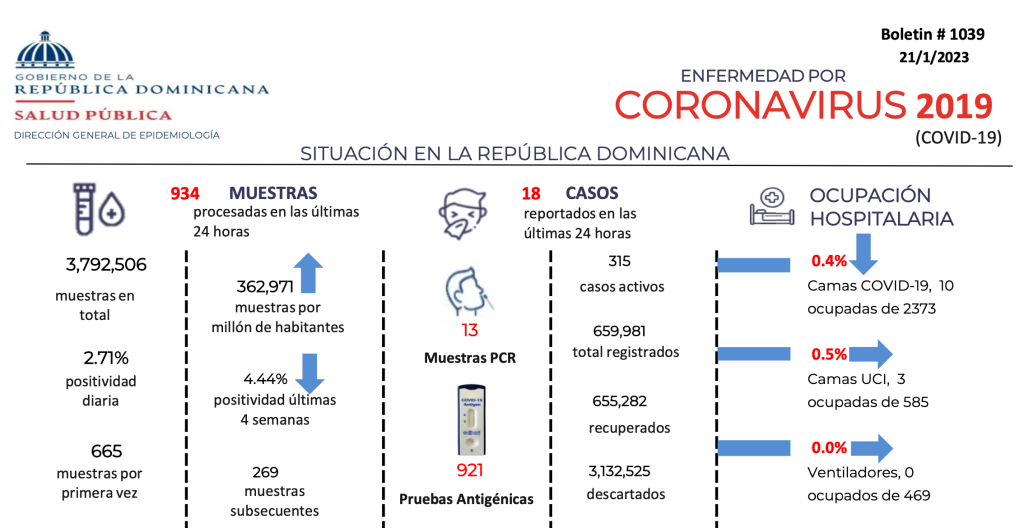 The 4-week Covid-19 positivity rate is now at 4.44%, with the 24-hour positivity rate at 2.71%, as per Covid-19 Bulletin #1,039 dated 21 January 2023. The downward trend in cases continues.
The number of Covid-19 registered cases in the Dominican Republic for Bulletin #1,039 was 18, resulting from 665 Covid-19 lab tests were carried out, of which 13 were PCR tests. The seven-day average of lab-reported cases is 31. With very few exceptions, most cases are mild and are treated as a cold at home.
The Ministry of Public Health is encouraging people to up their vaccination status, with a third, fourth or fifth vaccine that are available for free in the Dominican Republic. The analysis of samples from people recently infected with Covid-19 confirms the subvariant of the Omicron strain, known as XBB, is circulating in the country. The new variant is not worse than the Omicron, but does spread...