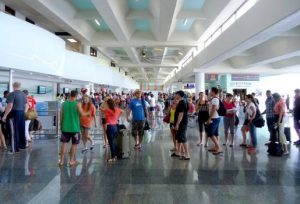 Foreign air arrival statistics for 2019 show a decline of 1.2% from January to October 2019, compared to the first ten months in 2018. Tourist air arrivals for January to October 2018 were 5,424,399. This compares to 5,359,903 for that period this year. 64,496 fewer tourists came this year than in the same period in 2018.
The decline in foreign visitors is attributed to the negative campaign that went viral in social media and mainstream press, primarily in the United States and Canada. The campaign tallied the deaths of US tourists in the Dominican Republic during the first half of the year and attributed these to "mysterious causes." Subsequently, toxicology tests carried out by the Federal Bureau of Investigations disputed the allegations in the press, attributing the deaths to previous health conditions of the visitors, as established in the autopsies carried out in the Dominican Republic upon the deaths. But the damage to the reputation of the country had been done.
The Central Bank Tourism Flow Report for October 2019 that 177,711 fewer tourists visited in the first ten months of the year than for Jan-Oct 2018. There was a 3.8% decline in foreign visitors. But this decline was compensated by an increase in visiting non-resident Dominicans. Non-resident Dominican visitations were up 15.2%, or 113,215 more travelers.
59.3% of tourist arrivals came from North America. 22.9% flew in from Europe, 13.1% from South America and 4.3% from Central America and the Caribbean. Travel from North America was down 2.9%, with 80,546 fewer tourists visiting.
Punta Cana International Airport continues to be the preferred airport, with 2,955,965 arrivals. Las Americas International (Santo Domingo) is second with 781,101 entries. Next in air arrivals is Puerto Plata with 325,667, Cibao (Santiago) with 206,051, La Romana with 149,258, El Catey (Samaná) with 68,270 and La Isabela (northern Santo Domingo) with 15,334.
19 November 2019