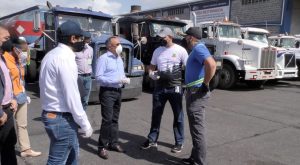 Government agents seized 29 tank trucks filled with harmful, oily and bilge water, that was apparently off-loaded in the Port of Haina, according to a report from the Ministry of Environment. Listin Diario reports that this process was "irregular," which is a polite euphemism for illegal. The trucks were seized by Customs Agency inspectors and others from the Ministry of the Environment. Seaports have continued their operations.
According to the Ministry of Environment, the fluids were imported by Servifuell by way of West Haina Port. The operation was illegal. Minister Angel Estevez said that the cargo will be removed from the country by sea, not by land and returned to its country of origin. The 29 tank trucks were filled from a ship that docked at night, unloaded the liquid and left the port that same night.
The suspicious movement alerted inspectors from Customs and from the Ministry of the Environment that discovered the bilge water in the trucks and placed them under the control of the ministry. Estevez said that the Ministry had suspended the out-of-date license that Servifuell had and said that the company would be penalized under Environment Law 64-00. The Minister speculated that the company had attempted "to fish in turbulent waters" and make some money at the expense of the country's environment, taking advantage of the coronavirus lockdown.
Read more in Spanish:
Ministry of Environment
18 May 2020