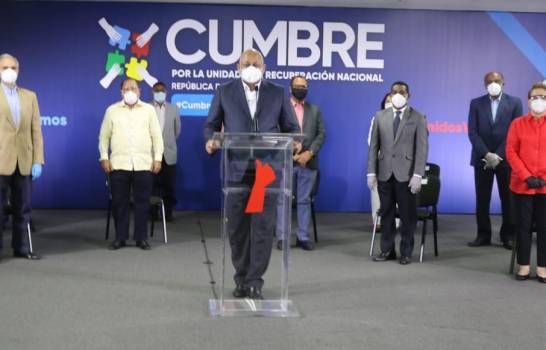 Since the start of the National State of Emergency, opposition party presidential candidate Luis Abinader has called for a national summit where Dominican leadership can meet to discuss the nation's plan for going forward. The request has fallen on deaf ears, and the Medina administration has moved forward under the coverage of the National State of Emergency to carry out relief and health actions, most due to come to an end in July 2020. Estimates are that the government has created financial instruments for RD$100 billion during these days of the crisis, leaving the next government a record increase in public debt and a nation crippled under the effects of the Covid-19 epidemic.
Leading polls show that most of the Dominican population will not vote for the ruling political party, the Dominican Liberation Party (PLD), to remain in power. Abinader of the Modern Revolutionary Party (PRM) and PRM party leadership are concerned with what the Medina administration will deliver to the expected new authorities.
Given the rejection of the Medina administration to working with the opposition leaders, Luis Abinader is now calling for a "national recovery" summit with meetings leading to preparing a document consolidating views. The event calls for online and face-to-face meetings in the country and abroad. The discussions will focus on health, the economy, social issues, the political-institutional and cultural crisis.
Given the Medina administration is not interested, Abinader is calling for PRM followers, PRM leaders and allied parties and national leaders to discuss proposals of how the country will tackle the new normal under the Covid-19 epidemic as of August 2020.
Registrations are open nationwide to participate in the event on the PRM website. There are 11 national commissions with representatives in the DR and abroad organizing the event. Discussions will take place from 19 to 25 May. As of 25 May, there will be general assemblies in all provinces, adhering to Covid-19 safety protocols. A final wrap up session will be held on 7 June with presidential candidate Luis Abinader presenting the conclusions of the working tables.
Abinader described the event as participatory, plural, dynamic, and diverse process of commitment to the nation.
Political parties and movements, business organizations, churches, unions, trade unions, media, commercial organizations, non-profit associations, youth groups, women's organizations, environmentalists, academic institutions, legislative and municipal authorities, popular movements, professional organizations, summit specialists, among others are invited to participate in the discussions.
Read more in Spanish:
Diario Libre
19 May 2020