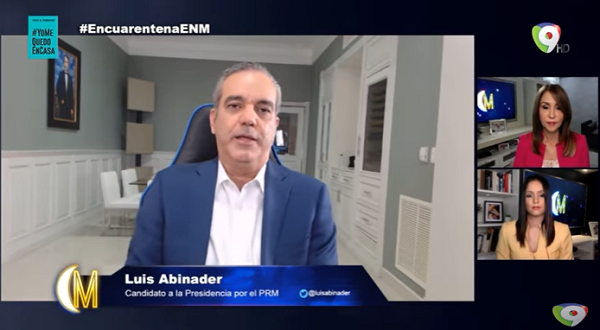 Luis Abinader promised Dominicans they will be proud of their new government. Mariasela Alvarez and Diana Lora interviewed Luis Abinader, presidential candidate for the Modern Revolutionary Party (PRM).
He spoke with confidence of how the new government teams will meet the challenges. "A change in style of government is urgent to overcome the crisis in the least time and relaunch the economy, eliminating distortions," he said.
He said there will not be sacred cows. He spoke of an independent public ministry to which all will be subject. The PRM has been criticized for reaching alliances with controversial figures such as Amable Aristy Castro, Roberto Salcedo, and Leonel Fernandez.
"That does not imply a change in our way of thinking or acting," he said. "I do not negotiate my principles," he said. "Who backs me must know there will be change in government. We are going to make the changes the Dominican Republic needs," he emphasized. "Justice will be the same for all," he said. "There will not be sacred cows of today or tomorrow."
"It is easy to submit those of other parties to justice, and that is why we are going to have an independent attorney general," he explained. He said his instructions to the attorney general will be to act without pressure, from the President or any member of the Executive Branch. He is optimistic that the person chosen will be someone with the recognized honesty and independence to have previously earned the respect of citizens. He said there are persons who are known for their independence of criteria. He stressed the new team will work to make government transparent and that there be no impunity.
He spoke of his personal background in the largest Dominican resort venture, later in a cement company and participation with the family business in schools and universities. He said that in 1983 his father created a family protocol. "We would not do business with government," he said. He motivated the audience to "compare that with the wealth of the other candidates to see where this comes from." "In a first presidential debate, we can explain that," he said. He is the son of a former senator and minister of finance of the country.
He spoke emphatically about the celebration of elections abroad. He said the Central Electoral Board (JCE) does not have an excuse to carry out the elections abroad. "They need to act independently and not be pressured by the government," he said. "There is time and the conditions are there to hold the elections," he said.
When asked why he wanted to be President in such critical times, he replied: "Leadership is not for good times, it is for difficult times. It is tested in these moments."
Mark Penn and Greenberg polls had indicated that Abinader had the vote to win the rescheduled 17 May 2020 election in a first round. The election is now scheduled for 5 July. The opposition says that the performance of his leading contender, Gonzalo Castillo during the Covid-19 crisis will make a second round vote necessary.
21 May 2020