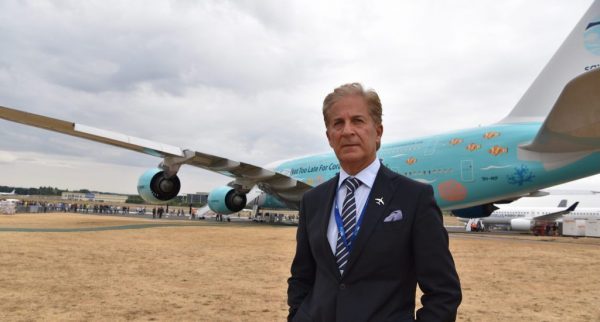 El Nuevo Diario interviewed Carlos Mirpuri, pilot of the Airbus 380 passenger plane that flew a Covid-19 supplies cargo flight from China to Las Americas International Airport last week. This is the first time an airplane arrived on a direct flight from China.
The vice president of Hi Fly, the Portuguese airline company, knows the Dominican Republic well. He says what he likes best about the country is its sea, the sand and the friendliness of its people. He said when he opened the doors of the plane, he felt the temperature that he described as "magical". He regretted that he could not take time out to enjoy a beach like the ones he knows in Punta Cana given the present circumstances.
Mirpuri spoke of the non-profit foundation in which his companies partner with governments, businesses, communities and individuals to address projects in aviation, medical research, wildlife conservation, performing arts, social responsibility and marine conservation. He advocated for alternative aviation fuel and for people to discontinue using single use plastics.
He forecast aviation would eventually resume a new normalcy. He said companies will need to reinvent their business model, reduce back debts and involve employees in a new work relationship. But above all, he said the aviation industry needs to convince the public in general that it is safe to fly again.
Mirpuri said he has been flying to the Dominican Republic since 2001, landing at Punta Cana, La Romana, Puerto Plata and Santo Domingo airports.
He spoke highly of the Las Americas International Airport. He said he requested landing on runway 17. "The runway is excellent, well paved and its 60 meters width makes us feel comfortable with respect to foreign objects." He was referring to foreign object debris that may cause damage to the jet engines when the airplane flies close to the green area.
He explained the airplane consumed 200 tons of Jet a1 fuel for the flight from China. He flew the route over Russia to Alaska because of the favorable winds.
He said he has been the first to fly the A380 into a dozen airports. "This airplane is a magnet," he said. He said the flight is always received by applauses and kindness as was the case in Santo Domingo.
Read more in Spanish:
El Nuevo Diario
25 May 2020