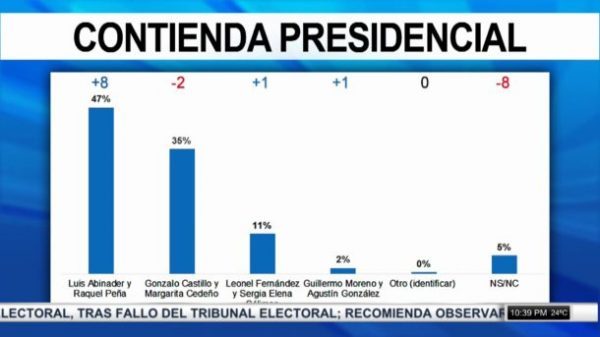 Noticias SIN released the findings of the Mark Penn/Stagwell poll that show Luis Abinader is likely to take the election in a first round. The poll indicates opposition party leader, Luis Abinader of the Modern Revolutionary Party (PRM) will receive 47% of the vote compared to ruling Dominican Liberation Party (PLD) candidate, Gonzalo Castillo's 35%. Former President Leonel Fernández, now running for the People's Force (FP), gets 11% and Guillermo Moreno of Country Alliance (AlPais) 2%. But Mark Penn says there are 5% undecided. Taking into account the survey margin of error of 3.1% and those that are undecided, the company says there is a good chance Abinader could grab most of the votes and win in the first round on 5 July 2020.
The findings of the Mark Penn/Stagwell face-to-face poll are very different than those in the company's previous telephone poll that had showed Luis Abinader with 39% to 37% of Gonzalo Castillo. In the three polls conducted by Mark Penn/Stagwell in January, May and June, Abinader has lead in both the first and second round. The new poll shows a trend toward increased support for Luis Abinader.
The company says that if a second round were necessary, that is none of the candidates received 50%+1 of the vote on 5 July, then Abinader would also take the election. Mark Penn says Abinader will win 54% against 40% for Castillo. A high 79% say they are decided on who to vote for.
72% of those surveyed indicated that they would vote, which coincides with the historical Dominican statistics on absenteeism. When asked if they would vote on 5 July even though the coronavirus placed them at risk, 77% said they would be willing to go to the polls.
Read more in Spanish:
Noticias SIN
25 June 2020