By Dolores Vicioso, Editor DR1
dolores@dr1.com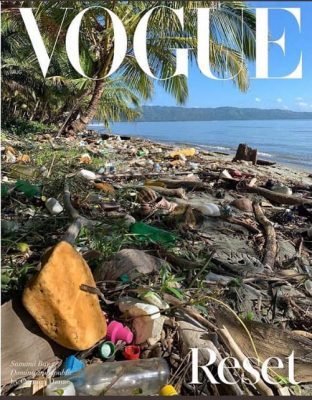 The new generations are brazen, and many are accepting the challenge to do their part to make a difference. They have just voted in a new political party and president after 16 straight years of the ruling Dominican Liberation Party (PLD). They are defending their beautiful land by demanding actions be taken to revert negative situations.
Young environmental activist and photographer Carmen Danae recently responded to a British Vogue challenge/reset sending in five photos of her province, Samana. She did not focus on its long stretches of white-sanded beaches – Coson, Las Terrenas, Rincon, Las Galeras, for which Samaná is best known for around the world.
Instead, she sent in photos of two national parks –Los Haitises National Park and Lower Yuna River Mangroves National Park, both in the province. The photos showed the pristine jungle foliage and the waters of Los Haitises. And one photo showed litter in the Lower Yuna River Mangroves National Park where it reaches the Samana Bay.
The reality is that rivers that flow through the inner towns bring trash of the non-biodegradable kind to the coastline affecting biodiversity. This is the tragic consequence of decades of mismanagement of solid wastes.
British Vogue published that one negative photo in its provocative challenge to the world. The magazine selected the photo in contrast to lovely natural beauty photos in other countries.
Carmen Danae says she was responding to the challenge posted by Edward Enninful, editor of British Vogue. He had asked artists around the world to submit images of landscapes in nature that meant something to them. She responded to the British Vogue's August 2020 beach challenge sending in a scene that had irked her.
Yes, it was bad timing. External factors have delivered enough problems. We should not be adding to them. Dominicans in general, responded on Instagram, enraged that during these difficult times when efforts are directed to restore the vital travel industry, for gratis a Dominican negatively positions the country.
Carmen Danae defends her decision to send the photo, saying that it creates dialogues that can help with the problem's solution, as she told Diario Libre in an interview and has posted online. British Vogue has around 4.2 million followers on Instagram.
"It helps to create dialogues, conversations and reactions as we are having now. A magazine such as Vogue had never given space to a global reality such as that of plastic and the environmental destruction they cause," she says. She says people around the world can understand it is not only a problem in the Dominican Republic. "It is a global problem and the solution will not be found if we do not accept we have a problem and we need to change," she said when interviewed by Diario Libre.
"My image of a 'protected area' and national park in my province shows us the reality of our natural landscapes and those around the world in 2020, disrupted, polluted, under threat. We have to come together to fight climate change before it's too late. Pollution, biodiversity loss and extinction are issues we need to take seriously and address," she writes in her Instagram post on the selection of her photo.
She is not the first of the young generation to raise the issue globally. Last year, award-winning movie-maker José Maria Cabral, another of the young generation, released "La Isla de Plastico," a film urging government and Dominicans in general to take action.
In July 2018, when a Tropical Storm Beryl poured plastic wastes down Ozama River and the international press covered this as pollution at a Santo Domingo beach, the years' dormant solid wastes bill was dusted off. Two years later, this 2020 it was finally passed by the PLD-majority legislators. It still has to be published by President Danilo Medina for it to become law.
This is an opportunity to turn a negative into a positive and motivate the new authorities to place solid waste tops on the national agenda. President-elect Luis Abinader has yet to announce his choice for Minister of Environment. Present Minister Angel Estevez is undoubtedly to go down in Dominican history as the worst for his actions and lack of actions. This is a call for change!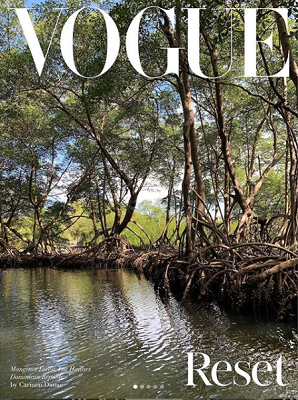 Read more:
British Vogue
British Vogue Instagram
Carmen Danae
Diario Libre
N Digital
Listin Diario
EcoRed
El Mitin
27 July 2020