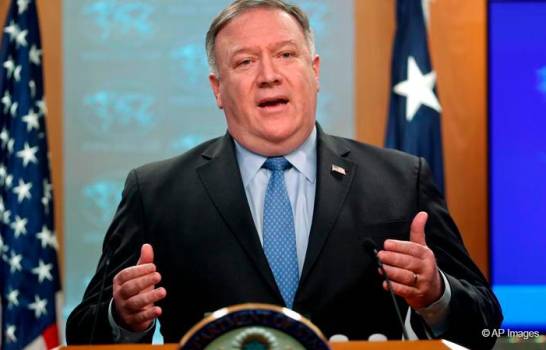 US Secretary of State Mike Pompeo has announced he will attend the swearing-in of the next President of the Dominican Republic, Luis Abinader. Named Foreign Minister Roberto Alvarez had tweeted that the US delegation would be head by Michael Pompeo and includes Michael Kozak, Acting Assistant Secretary for Western Hemisphere Affairs.
Just recently, in first statements to the press, Alvarez has said that relations with the United States are the top priority for the new Abinader administration. Alvarez has said the relations are special because of the large number of Dominicans who live in the United States that contribute billions a year in remittances and that the US is the largest trading partner and the largest source of tourists.
Local media recalls that around this time last year, on 11 July 2019, Pompeo made a telephone call to President Danilo Medina urging that the rule of law and the Constitution be respected. At the time, Medina sought a second amendment to the Constitution that would enable him to run for a third term. Shortly after, Medina announced he would not seek reelection.
The US State Department published on 14 July 2020:
"Secretary of State Michael R. Pompeo spoke today with Dominican President-elect Luis Abinader Corona to congratulate him on his victory in the 5 July election. US Secretary Pompeo commended the people of the Dominican Republic for a successful, free, fair, and transparent election and reaffirmed the United States' commitment to working with the Abinader administration. The Secretary underscored the importance of U.S.-Dominican cooperation to security and prosperity in the Caribbean region and throughout the Western Hemisphere."
Named Foreign Minister Alvarez has also announced that Spain would be represented by Foreign Minister Maria Aranzazu Gonzalez Laya, who will be accompanied by the director-general for Iberoamerica and the Caribbean, Rafael Garranzo García.
Alvarez has stated that given the health crisis circumstances, the traditional inaugural ceremonies will not be held. The new authorities would just be hosting the foreign dignitaries at a luncheon at the Presidential Palace after the inauguration.
Later on Sunday, Alvarez announced he had received confirmation that President Jovenel Moise of Haiti had confirmed he would be present for the inaugural. He will come with Haitian Foreign Minister Claude Joseph.
Read more in Spanish:
Diario Libre
Listin Diario
Listin Diario
9 August 2020