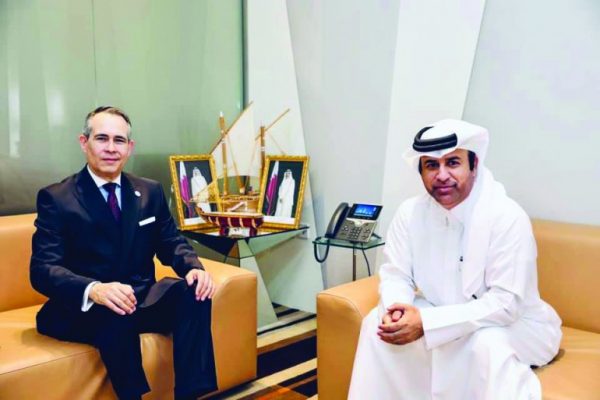 Dominican Ambassador to Qatar, Federico Cuello announced the country is going ahead with the celebration of Dominican Week in Qatar. The announcement comes after Cuello met with Khalid bin Ibrahim Al Sulaiti, general manager of the Cultural Village Katara in Doha, where the event will take place.
A highlight of the event is the art exhibition showcasing Dominican Republic's stunning beauty and charm through 30 masterpieces of Dominican painting. "The exhibit is going to be called 'Republic of Color' and it's going to be a demonstration of how vibrant Dominican colors are. The Dominican Republic is a tropical island full of lush vegetation with the Caribbean sun and the Caribbean sea, so those shades of blue and green and those red sunsets are reflected in a very dramatic way in the art exhibit we are going to be showcasing here," the ambassador said in an interview posted on Katara's social media channels.
Given the Covid-19 pandemic, the exhibition will be presented and managed creatively with controlled attendance and a multimedia version for those who wish to view the show from the comfort of their homes, on their laptops and mobiles, explained the ambassador.
"I am delighted that we are pulling this off even when everything has changed because of the pandemic," said Ambassador Cuello. He highlighted how this event brings Qatar and the Dominican Republic closer as both countries work together in many areas.
"I am very grateful for the support of Dr. Al Sulaiti and his team, and I congratulate Qatar for having the wonderful cultural center that is Katara, which is really a model for the rest of the world. Every time I come here, I find something new. It's a place of infinite treasures to continue to discover every day," he said.
As a leading cultural destination in Qatar, Katara has been at the forefront of the promotion of culture and the arts, forging partnerships with various international institutions and embassies, organizing cultural and art events such as festivals, cultural weeks, exhibitions, concerts, and theatrical performances.

Read more:
The Peninsula Qatar
Katara Cultural Village
10 September 2020