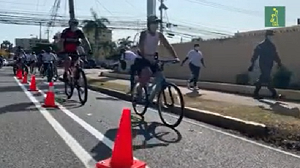 City Mayor Carolina Mejía and her transport expert, city government secretary-general Hugo Beras are working hard to improve transport in the National District, the capital city. A mobility week is announced and a new biking route was opened where cyclists get preference for moving through traffic jams.
The additional 1.9 kilometers of biking lanes were opened on Simon Bolivar (west-east) and Winston Churchill (north-south) avenues. Mejía is intent on making Santo Domingo a more friendly city. The city now has 9.4 kilometers of bike lanes. Mejia is promoting bicycles as a means of transportation, sport and recreation in the capital city.
There is another bike route that runs: Av. Simón Bolívar, Av. Pedro Henríquez Ureña, Dr. Delgado Street, Av. Abraham Lincoln and Av. César Nicolás Penson (about 8 kms). There are also cycling paths on the Malecón.
The mayor also announced that the Avenida de la Salud, on the south side of the Mirador del Sur Park, will be strictly for those on foot during the National Sustainable Mobility Week, to be held 22-29 September 2020.
Secretary-general of the city government, Hugo Beras says that in the National District there are more than 100 groups of cyclists. He says the National Institute of Transit and Ground Transport (Intrant) has carried out studies that show the use of the bicycle for getting around in the city and for exercise is increasing.
Read more in Spanish:
Listin Diario
Diario Libre
El Caribe
20 September 2020