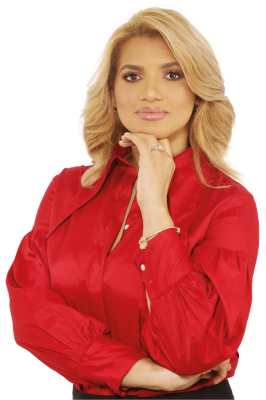 Investigative journalist Nuria Piera has uncovered a business scheme that explains the new wealth of a rising star in the now ruling Modern Revolutionary Party (PRM), Kinsberly (Kimberly) Taveras. Taveras' modus operandi is reminiscent of corporate schemes by former Dominican Liberation Party (PLD) politicians. These schemes were one of the reasons that party was voted out of office.
The 32-year old Kinsberly (Kimberly) Taveras had surprised the nation when she filed her worth statement for RD$106 million assets in complying with the government requirement. People have wondered how she accumulated the fortune. She did not inherit it. She was low middle class until she began climbing the ladder in politics. Before her appointment as minister of youth in the Abinader administration, she had been elected mayor of the small town of Guayiga and then of Pedro Brand, both in northern Santo Domingo province.
Investigative journalist Nuria Piera dedicated her Saturday, 10 October 2020 program to try to explain the new minister's rapid fortune. When she interviewed Taveras, the young politician attributed her early wealth to her first husband. "He paid for all our expenses," says Taveras. Piera presented evidence that Taveras' husband had benefited from contract work from the municipalities under Taveras. This is against the Procurement Law 340-06.
Piera took a quick glimpse into Taveras's parallel career as a major contractor of garbage trucks to city governments outside her own. She presented evidence of how Taveras took out millionaire loans and then invested in garbage trucks that she rented to other city governments, many now under the administration of fellow Modern Revolutionary Party (PRM) politicians. Among these, the city government of Santo Domingo East under Mayor Manuel Jiménez. Procurement Law 340-06 has rules against using insider relations to do private business.
The Nuria Piera investigation revealed that companies owned by the official or her relatives have contracts worth millions with several city halls. The contracts are primarily for renting garbage trucks for waste collection. Piera said that the municipal officer is an entrepreneur who benefits from state contracts.
Early on, one of her biggest contracts was with the city government of Boca Chica. Piera reveals the ties between Taveras and a former city councilor, Jheyson García Castillo. García Castillo ran for mayor of Boca Chica but lost in the 16 February 2020 election. García Castillo is also the son of a high-ranking PRM member, former deputy Josefa Castillo. Castillo won the Chamber of Deputy seat again in the 2020 congressional election, but was appointed Superintendent of Insurance by President Abinader. She is lobbying so that her son, Jheyson García Castillo, be named to the position. Others in the party consider that the runner up to the seat should be named.
Meanwhile, in the interview with Nuria Piera, Taveras revealed García Castillo has been her boyfriend for the past six months. She sees as a positive doing business with her boyfriend. The business deals with Boca Chica have gone in the open as the new mayor of Boca Chica Fermín Brito had to reach an agreement with OAR Imperio SRL. This Taveras-related company was awarded the contract for garbage collection in Boca Chica. Piera presented irregularities in the contracting and in the garbage collecting operation.
Nuria Piera also looks into the performance of Taveras' companies after she wins the contracts with the municipalities. The investigative journalist concluded that the minister of youth's explanations do not clear her accumulated wealth. "They only make it more obscure," said Piera.
First Lady Raquel Arbaje tweeted on the case: "It is not my area. But I am following the case. I have high esteem for Kimberly Taveras. Let us wait."
Follow the story in Spanish:
Nuria Piera

Nuria Piera
Listin Diario
Listin Diario

Listin Diario

12 October 2020