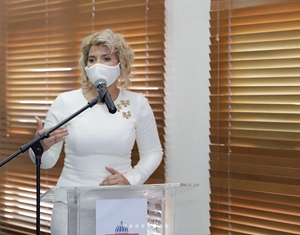 The Procurement Agency (DGCP) announced it is suspending the state suppliers registry (RPE) of current Youth Minister Kinsberly (Kimberly) Taveras Duarte. The Procurement announced that they have begun "an ex-officio investigation" into the 32-year old's relations to companies that are state suppliers. The agency took the decision to suspend the supplier license after Nuria Piera aired an investigative report on the young politician.
The DGCP says that Taveras is listed as a state supplier with two companies, one in her own name and the other, Colegio Domínico Chino CDC, SRL, where she serves as administrative manager and owns 75% of the shares.
The Procurement Agency reminded government officials that Article 14 of Procurement Law 34-06 bans them from bidding or contracting with the state. The agency had out Circular DGCP-07-2020, on 26 August 2020 giving government officers 30 calendar days to comply with the regulation.
"The DGCP continues in the process of identifying the officers who have not yet requested the suspension of their EPR to proceed with their ex-officio disqualification ex officio, as ordered in the Public Procurement and Contracting Law. We are committed to guarantee equal opportunities and avoid conflicts of interest in the contracting processes," stressed the director of the DGCP, Carlos Pimentel.
Art. 14 of Law 34-06 establishes that first and second level government officials are subject to the law and its amendments. Ministers, deputy ministers, directors and deputy directors, mayors and councilors cannot be bidders or contract to supply goods, works and services to government institutions.
On Monday, after the Nuria Piera show aired on Saturday, 10 October, Kimberly Taveras tweeted: "I have a clear conscience because I have always acted with transparency since I became a public servant 10 years ago. I am willing to respond to justice if someone brings in a single piece of evidence. I disassociate myself from the attacks by strangers on Mrs. Nuria."
The Nuria Piera investigative program on Kinsberly (Kimberly) Taveras will be aired again on Monday, 12 October 2020 on CDN Channel 37 at 8pm.
Read more in Spanish:
Procurement Law 34-06

12 October 2020