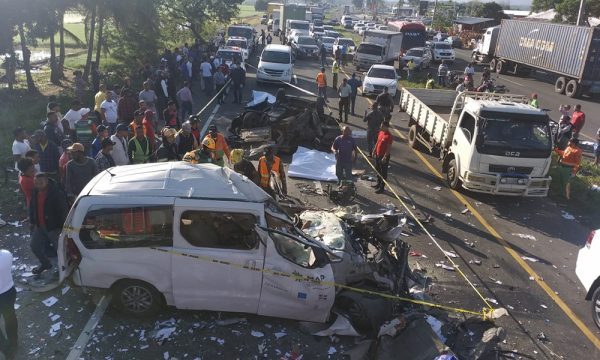 The Ministry of Public Works has announced major roadwork to improve the Duarte Highway that connects the north with the south. The works will be carried out from Km. 9 in Santo Domingo to Santiago, some 155 km.
From January 2019 to August 2020, there have been 1,202 road accidents with 283 deaths reported. During the same time frame, 1,522 people were injured in traffic accidents. Most of the fatalities occurred in the stretch from Los Alcarrizos to La Vega, according to the Permanent Observatory of Road Safety (Opsevi) of the National Institute of Transit and Ground Transport (Intrant). The critical areas correspond to Santo Domingo West, Los Alcarrizos, Pedro Brand, Villa Altagracia, Piedra Blanca, Bonao, La Vega and Santiago.
Just recently, six employees of the National Airport Agency (Departamento Aeroportuario) died when the vehicle they were returning to Santo Domingo from work in Puerto Plata crashed and caught on fire.
The Opsevi indicates that in 2019 alone on the Duarte Highway there were 831 road accidents for a total of 1,039 injuries and 212 fatalities. From January to August 2020, 371 accidents were registered on the road, in which 483 people were injured and 72 lost their lives.
Of the 1,202 accidents, 891 were collisions (74%), followed by 156 slides (13%), 102 run-ins (8%), 28 crashes (2%), 17 rollovers (1%) and for 7 there is no data (1%).
56% of accidents involve at least one motorcycle, while 39% involve a car, followed by vans 21%, SUVS 18%, cargo vehicles 12%, pedestrians 8% and buses 5%.
The Observatory reports that most of the accidents were caused by lack of adequate lighting and signage, irregular crossings and returns near dangerous curves and absence of protective railing.
Read more in Spanish:
El Caribe

27 October 2020