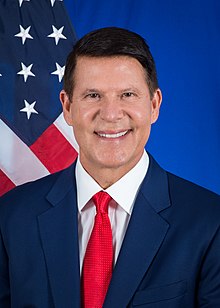 US Under Secretary for Economic Growth, Energy, and the Environment Keith Krach visited President Luis Abinader at the Presidential Palace on the morning of 17 November 2020. He was accompanied by US Ambassador Robin Bernstein.
Krach is known as an entrepreneur and is recognized for his contributions to robotics, engineering automation and electronic commerce. He was named to the position in 2019. He has spearheaded the US position to foster the Clean Network by adopting the EU 5G Clean Toolbox, contesting the deployment of Chinese Huawei 5G technology, described as a high-risk provider.
For Krach it was the last stopover of a trip that was scheduled to take him to Brazil, Chile, Ecuador, Panama and the Dominican Republic from 7 to 17 November 2020. On his agenda, Krach would meet with government officials and business leaders to discuss the rapidly growing Clean Network, 5G security issues, environmental collaboration, and shared economic and national security objectives.
Accompanying Krach on the Latin American tour was Assistant Secretary for Energy Resources Francis Fannon who will also discuss regional growth in the critical mineral development sector and energy security.
Krach was named to the position in 2019.
Read more:
El Nacional
US Embassy
Keith Krach
17 November 2020