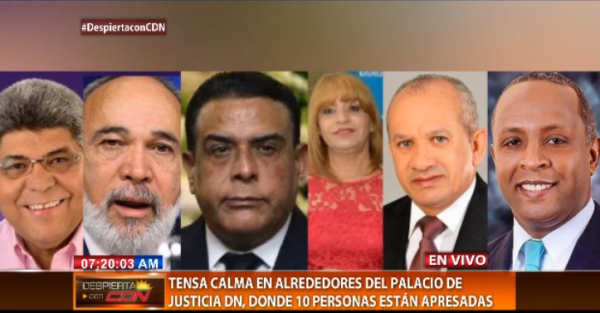 The media was abuzz on Sunday morning, 29 November 2020, after the early morning arrests at their homes of the brother and sister of former President Danilo Medina Sánchez by Police and public prosecution agents. The Anti-Corruption Agency (Pepca) accuses Carmen Magalys Medina Sánchez and Juan Alexis Medina Sánchez of corruption or profiteering from government influence. Carmen Magalys Medina Sánchez is a former vice president of the Patrimonial Fund of Reformed State Enterprises (Fonper) and her brother, Juan Alexis Medina Sánchez, is investigated for irregularities in contracting with the state.
Also arrested are Francisco Pagán, former director general of the Office of Supervising Engineers of Public Works (OISOE); Fernando Aquilino Rosa Rosa, former president of the same Fonper; Rafael Antonio Germosén Andújar, former National Controller; Aquiles Alejandro Cristofer Sánchez, former controlling director at the OISOE; Julián Esteban Suriel Suazo, José Dolores Santana Carmona and Domingo Antonio Santiago Muñoz, for their ties to Juan Alexis Medina Sánchez. Also Lorenzo Wilfredo (Freddy) Hidalgo Núñez, a former minister of Public Health during the Medina administration.
The Pepca says the arrested were privileged government suppliers and front people who took advantage of family ties to accumulate fortunes during the past administration. The public prosecutors say the 10 former-officials and front people accused of corruption arrested this weekend because several were destroying evidence, intimidating witnesses and making financial moves aimed at hiding documents and financial operations.
The arrests were named "Operation Anti-Octopus" (Operación Anti-Pulpo). Altagracia Salazar on her Sin Maquillaje morning talk show on 30 November explained that the name of the operation comes because Alexis Medina was dubbed "el pulpo" because of the large number of companies that are suspect to have benefited from irregularities in government contracting.
The Attorney General Office said the arrested were taken to the Palacio de Justicia jail to await the hearing on Monday, 30 November 2020.
The former ruling Dominican Liberation Party (PLD) convened the press on Sunday afternoon to demand respect for human dignity and independent judicial hearings for those charged with corruption. President Danilo Medina himself spoke to defend his past government's honesty. He said he was confident the trial would prove the innocence of the accused.
On Sunday evening at 8pm, the capital city of Santo Domingo again heard the sounds of people banging pots. Social media explained the action was an applause to the arrests on Sunday.
Follow the story in Spanish:
Attorney General Office
Attorney General Office
El Nuevo Diario – 6:05 minutes into the video
Diario Libre

Listin Diario
Hoy
El Dia
Hoy
Somos Pueblo
N Digital on Alexis Medina
30 November 2020