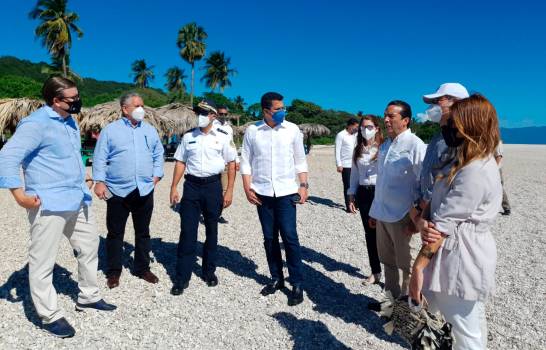 Tourism Minister David Collado went south last week to meet with the members of the South Hotels and Tourism Association. The business people made it clear that they wanted to work with the Ministry of Tourism to attract investment and promote their area.
The so-called "Deep South" region includes Pedernales, Barahona, Independencia, Bahoruco, and San Juan de la Maguana. These are some of the Dominican Republic's poorest provinces, yet they offer some of the most extraordinary natural attractions for domestic and local tourism.
For instance, there is the amazing Bahía de las Aguilas beach in Pedernales province. The below-sea-level Enriquillo Lake is in located in Independencia. There are pre-Columbian archeological sites in San Juan de la Maguana.
The tourism entrepreneurs asked Collado to head the effort for better road connectivity to attract more domestic travelers from Greater Santo Domingo. Collado noted that the Ministry of Public Works had just begun work on the Baní Bypass last week so vehicles can reach the next town of Azua and then Barahona without having to deal with traffic in the city of Baní. The 19-kilometer beltway will reduce driving time to and from Santo Domingo by around half an hour.
Another suggestion was to ease the bureaucracy involved in local flights. The locals say the paperwork for a domestic charter flight from Santiago, La Romana, Barahona or Pedernales takes more time than the flight itself.
Read more in Spanish:
Diario Libre

30 November 2020