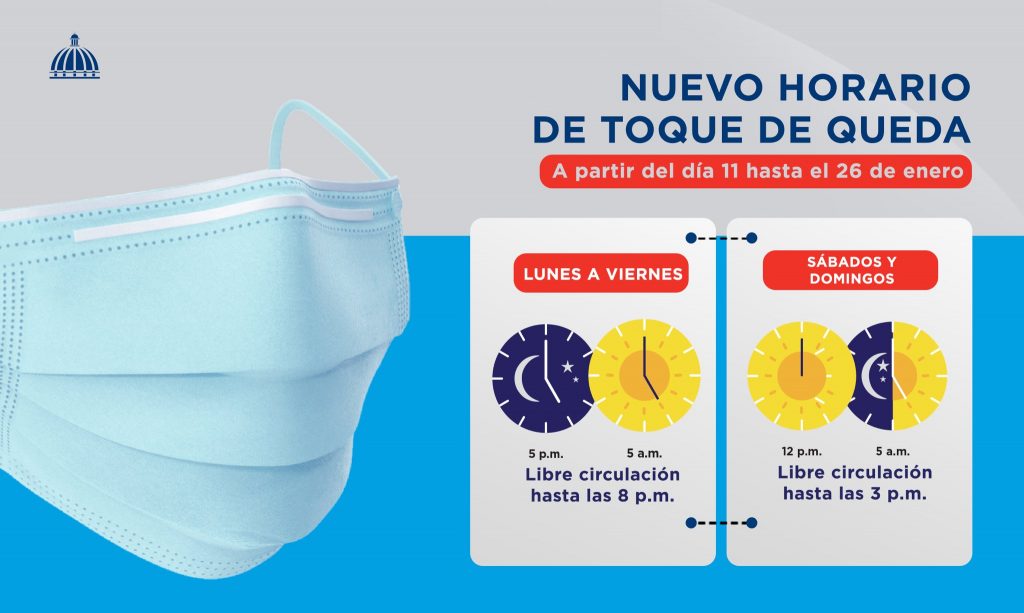 The Presidency issued Decrees 6-21 and 7-21 with the new rules for lockdown in the Dominican Republic. The rules are slightly less restrictive but still considerably reduce social gatherings to reverse the present upward trend in cases. The spike is attributed to the increased mobility for the Christmas holidays and general pandemic fatigue.
With Decree 6-21, the nation continues under a National State of Emergency. The 45-day extension is effective 11 January through 26 February 2021.
With Decree 7-21, the Health Cabinet sets down regulations through 24 January. The lockdown is from 5pm to 5am, with now free transit time extended from two to three hours. The grace period to get home is now from 5pm to 8pm, up from 7pm. This is in effect for Monday to Friday, regardless of whether the day falls on a holiday.
The same decree also establishes a three-hour transit period for Saturday 16 and 23 January and Sunday 17 and 24 January. The curfew for these two Saturdays and Sundays is from 12pm to 5am. The added three-hour transit time allows commuters the additional time to get home.
The decree allows restaurants to open during the authorized hours, but these need to operate only at 50% of capacity. They are authorized to serve the general public until 5pm Monday to Friday and until noon on Saturdays and Sundays.
Restaurant delivery, nevertheless, is allowed through 11pm. The same applies for pharmacies and colmadones. Bars and colmadones are banned from selling alcoholic beverages during curfew hours.
There are exemptions that allow many to commute during curfew. On the list are health care workers, journalists, supermarket workers and many others. Those headed to airports may do so presenting a valid airline ticket as the reason to be on the road. Only the travelers and the driver should be in the vehicle, though.
With Decree 7-21, the government authorized people to practice sports activities in parks, but these must be individual activities that do not require people gathering. Alcoholic beverages sale and consumption is banned in parks. Gyms are to remain closed, as well as movie theaters and installations for events.
The tourism industry is authorized to continue operating under the special protocols that are much more relaxed than those prevailing for urban areas. The government tells the hotels that mass gatherings, parties and events where people would congregate, are banned even in the hotels.
Churches and religious groups are authorized to continue operating under the health protocols that were confirmed by Decree 2-21 of 5 January 2021.
The government orders that the public sector offices be open from 8 to 3pm and that 40% of the workforce should work from home.
These measures are in addition to mask-wearing, physical distancing and hand hygiene measures.
Read more in Spanish:
Presidency – National State of Emergency

Presidency – Decree 7-21 on new curfew rules

Presidency – Decree 2-21 on religious activities

10 January 2021