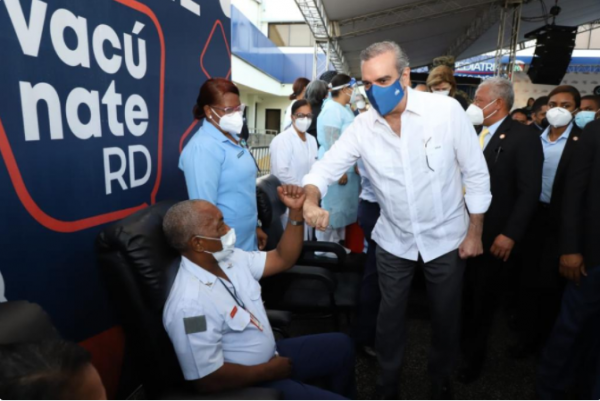 President Luis Abinader and First Lady Raquel Arbaje say they will get vaccinated when it is their turn. According to the schedule, Abinader would be vaccinated from May to July. His wife would be vaccinated from August to December.
Both Abinader and his wife tested positive for Covid-19 in June 2020, shortly before the election day on 7 July. The Abinaders say they have the protective antibodies. They explain there are others for whom the vaccination is more important.
President Abinader says that he will follow the National Vaccination schedule. In January 2021, the President had said he and his wife would get vaccinated to generate confidence in the population. At the time, there were expectations that millions of vaccines would arrive in time for vaccinations in January 2021.
Vaccines are only trickling in to the Dominican Republic. The first 20,000 doses arrived on Monday, 15 February and have begun to be applied to the country's 12,500 front-line medical staff. The government has purchased around 20 million doses, but pharmaceuticals have been slow in delivering. The first 20,000 doses were the last to be purchased. They arrived from the AstraZeneca manufacturing center in India.
The Vaccination Plan is in phases.
Phase I (from February to April 2021) expects to reach out to 1.5 million persons. The priorities are: frontline medical staff (12,500), medical staff (210,000), adults older than 60 with comorbidities (hypertension, asthma, heart and kidney conditions, cancer, diabetes, obesity), military population and Police, teachers, and adults older than 60 years.
Phase II is from May to July and expects to reach out to 1.2 million people. It targets the population of 50-59 years with comorbidities and the rest of the population ages 50-59.
Phase III will cover those 18-49 with comorbidities and the rest of the population 18-49 years.
Vice President Raquel Peña, who heads the government's Health Cabinet, has said the National Vaccination Plan is a work in progress. Overall, the plan is to vaccinate 7.8 million Dominican citizens. It has a cost of RD$13 billion.
Read more in Spanish:
N Digital

Read background news:
DR1 News
DR1 News
DR1 News
16 February 2021