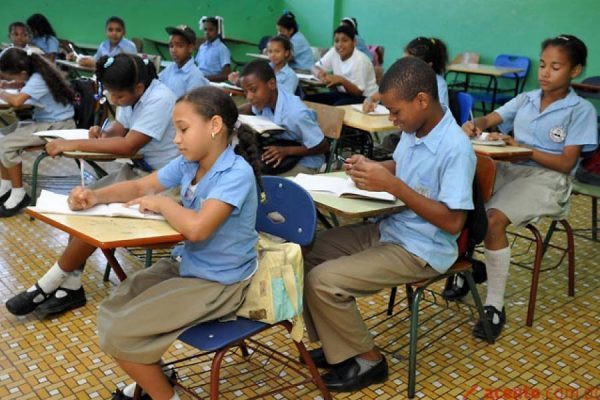 A poll carried out nationwide by Business Action for Education (Educa) reveals that 59.53% of parents back the full or partial return to classrooms, complying with health protocols. Only 40.47% responded: "No, I prefer that they do not return to the classrooms."
Parents of private schools (pre-school through high school) have led the national campaign for a return to classes. Yet, the Educa poll reveals that the parents of the poor are those most in favor of their children returning to in-person learning. Only 30% of parents of children in public schools reject that their children return to school. Parents with low education themselves do not feel adequate to help their children to gain from the distance learning programs.
The Ministry of Education has not indicated the guidelines for returning to school. Likewise, the Dominican Association of Public School Teachers' president has alerted that many public schools do not have the conditions to reopen. But the push nationwide is to open those that are ready.
The poll indicated that 80% of students are accompanied by a relative or friend at home when engaged in distance learning programs via radio, TV or the Internet. Nevertheless, 10% are left alone at home, and another 10% are at home with a paid care person or tutor.
The poll revealed that one out of three parents feel their children are worse off than before. Large numbers of parents fear their children will drop out of school once the pandemic is over.
Educa director, Darwin Caraballo says that the return to in-person classes would deliver the much-touted equity the Ministry has so much stressed when arguing the need to provide an electronic device to each student in the public school system. "What has happened is that we have worsened the education gap," Caraballo, urged children be allowed to return to in-person classroom education, when interviewed on "Esta Noche con Mariasela" TV program.
He said the poll also reveals more families than the health statistics show have been affected by Covid-19. He said 13% reported someone in the family had the disease.
Educa is urging the government authorize a back-to-school pilot in March. "It will be a national tragedy if we do not return to school," he highlighted. "It is time to give the deciding call to science, not myths or fears," he said. He said that while traffic accidents happen, this does not mean that people will not ride in cars.
He said preventive measures need to be taken and the corrections made as the events happen. He said schools have been the last to close and the first to open in most of the world. "We need to be on par with the rest of the world in education," he said. In neighboring Haiti, classes were not closed.
He said education will never be the same. The position of Educa is that the return to classes be voluntary and not imposed on any parent. Educa advocates for a hybrid model, where distance learning complements in-person learning programs.
Read more in Spanish:
Esta Noche con Mariasela
23 February 2021