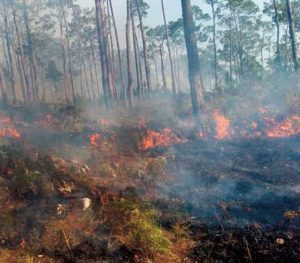 Ministry of Environment rangers and technical staff, firefighters and dozens of volunteers are working to put out the forest fires that have been raging through the Sierra de Baoruco, a scientific reserve in the southwest on the border with Haiti. Hundreds of pine trees, reptiles, birds and other species of fauna and flora have been damaged.
The Ministry of Environment reports the fires have raged through forest near the communities of Las Abejas, Pelempito, Qué Busca, Sitio Quemao, Los Arroyos and La Altagracia. The Ministry says it has been about to control 70-80% of the fires, but the area's strong winds have exacerbated the fires.
The local office of the Ministry of the Environment attributed the fires to indiscriminate logging and slash and burn farm practices. The fires have happened at a time when there is a shortage of forest rangers in the area.
The first fire began Friday, 28 February 2021 in the agricultural area of Qué Busca, close to Los Arroyos, on the border with Haiti. There slash and burn farming is practiced on a large scale. The greatest damage though, has occurred in the area of Las Abejas where hundreds of thousands of trees and animal species were destroyed.
Gradually, the fire spread to other areas in Independencia province, affecting areas in the vicinity of Puerto Escondido and Duvergé.
Forest firefighters from San Juan, La Vega, Barahona and other localities joined to put out the fires.
Read more in Spanish:
Hoy
4 March 2021