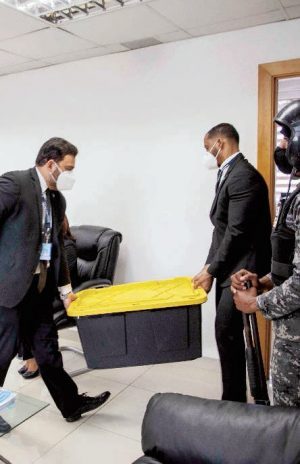 The Anti-Corruption Prosecutor's Office (Pepca) requested the Supreme Court of Justice (SCJ) declare inadmissible and reject the nullity of the search warrant as filed by the lawyers of the Chamber of Accounts. Pepca argues that the nullity of an act proceeds when irregularities of form and substance have been proven, which has not occurred in this case.
The Supreme Court of Justice president is Luis Henry Molina. At the time of his naming to the position, Molina had just resigned as a member of the Dominican Liberation Party's Central Committee (PLD). He had actively campaigned for President Danilo Medina.
The documents seized by the Anti-Corruption (Pepca) division of the Attorney General Office contain incriminating evidence against high-ranking officers in the past Danilo Medina administration.
In an instance addressed to the judge of the Second Criminal Chamber of the Supreme Court, Maria Garabito Ramirez, the head of the Pepca, Wilson Camacho, points out that in their request, Chamber of Account lawyers Jorge Prats, Julio Cury and Danay Mercado do not demonstrate any aggravation or irregularities of substance.
He recalled that the authorization to raid the state's auditing body was granted by this court "on a factual account based on legal evidence," and a vast constitutional basis that supports the actions of the state prosecutors.
He reiterated that handing over the interrogations and minutes of the process carried out so far in the Chambers of Accounts "is in total contradiction with the separation of functions, the functional direction of the investigation, the reserve and character of the proceedings."
"In that sense, we maintain our position of maintaining the secrecy of the investigation and not to give information to third parties about the proceedings carried out, with the objective of not jeopardizing the process in question," said Camacho.
The request of the head of the Pepca to Judge Maria Garabito Ramírez in her capacity as judge of the special investigation of the SCJ, is in response to another previously made by the lawyers of the Chamber of Accounts, requesting the nullity of the resolution by which she had authorized the raid practiced by state prosecutors to the auditing body last 22 February 2021.
The lawyers Jorge Prats, Cury and Danay, consider that the search was deficient in compliance with the provisions of Article 182.4 of the Criminal Procedural Code (CPP).
Read more in Spanish:
Hoy

Altagracia Salazar Sin Maquillaje

Acento

Hoy

Listin Diario

8 April 2021