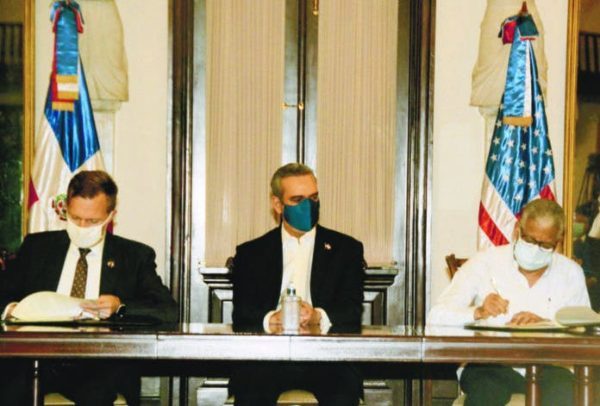 When the Dominican Liberation Party (PLD) was the majority in both houses in Congress, the National Domain Extinction Bill stagnated. Now, with the change of political party, and the Modern Revolutionary Party (PRM) holding the majority in both houses, the bill does not seem either to be a priority of the legislators. The bill is key to ending impunity and corruption and facilitating the seizing of illicitly-obtained assets.
The bill is again news, in the coverage of the high-level DR-US dialogue on institutional reform and citizen security at the Presidency on Wednesday, 28 April 2021. The US is offering assistance for police reform and improvements in local security. The US Embassy press release says the dialogue is a sign of the support of the United States to the efforts of the Dominican government to establish the National Strategy for Citizen Security.
President Luis Abinader head the dialogue between Dominican and US government officials. US Embassy charge d'affaires Robert Thomas head the US government team at the bilateral dialogue to collaborate on citizen security programs, including the National Strategy for Citizen Security and institutional reforms, including the National Police, the public procurement and contracting system and state oversight entities.
During the first meeting, the US Embassy reports that the group integrated by the US delegation and members of the Dominican cabinet discussed other topics of interest such as the law of extinction of ownership and the fight against human trafficking.
During the event, an agreement was signed for US$6.6 million in assistance for police reform.
Also present on behalf of the US government were William Swaney, acting minister-counselor; Todd Christiansen, director of the Bureau of International Narcotics and Law Enforcement Affairs (INL); Rebecca Latorraca, director of the US Agency for International Development (USAID); Alexander T. Bryan, political and economic advisor to the Dominican Republic, and Alex A. Bryan, political and economic advisor to the US Department of State. Political and Economic Advisor and Alex Titolo, Public Affairs Advisor; Eric Wolff, Commercial Advisor; Sherie Rebollo, Legal Attaché and David Billings, Deputy Director of the United States Agency for International Development (USAID).
Representing the Dominican government were Rubén Silié, vice minister for Multilateral Foreign Policy of the Ministry of Foreign Relations; Minister of the Presidency Lisandro Macarrulla; Minister of Hacienda José Manuel (Jochi) Vicente; Interior and Police Minister Jesús ("Chú") Vásquez; Women's Minister Mayra Jiménez; Major General Edward Ramón Sánchez González, director general of the National Police; Attorney General Miriam Germán; Legal advisor to the President, Antoliano Peralta; and Janel Andrés Ramírez of the Chamber of Accountability.
Read more:
US Embassy

DR1 News

Hoy
Listin Diario
29 April 2021