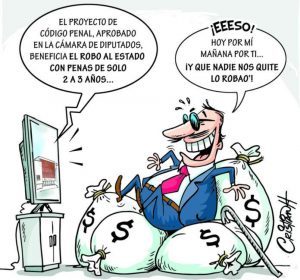 The executive vice president of the Institutionality and Justice Foundation (FINJUS), Servio Tulio Castaños, complained that the Penal Code bill has but two and three years in jail to penalize acts of corruption in government. He spoke on the occasion of Ethics Day.
"It is striking that today that we are celebrating the day of Ethics, the Chamber of Deputies yesterday approved a Penal Code, where in Article 303, which has to do with corruption, the penalty for whoever commits a crime of corruption is but 2 to 3 years," Castaños observed.
The penalties in the Penal Code were reduced from 10 years in the current version.
The president of the Justice Committee of the Chamber of Deputies, Alexis Jiménez defended the reduction saying that the new Penal Code contemplates accumulation of charges and thus those who are accused of administrative corruption can at the same time be charged for other crimes.
Castaños says that the population in a general sense has only focused on decriminalization of abortion and its three grounds. He urged people take note that the Penal Code as approved includes this article that will encourage corruption in the country.
"We were surprised…something that goes against all international treaties, that will encourage corruption in this country," he said.
The vice-president of FINJUS stated that it is contradictory that while the government is talking about transparency and submission to the rule of law, the ruling party approves a Penal Code with such flexible penalties to corruption.
"How is it possible that if we are talking in the Presidential Palace of transparency, of putting the administration in order, then the sanction that is established in the Code on corruption, is but two to three years. I say I don't know, gentlemen, but I think that in this country someone has to be wrong," said Castaños.
Regarding the arrests resulting from Operation Coral, Castaños said that Congress needs to pass the National Extinction of Domain Bill, which allows the state to seize the assets of anyone who cannot prove their legal origin, without the need of an investigation.
Read more in Spanish:
El Nuevo Diario
N Digital
30 April 2021