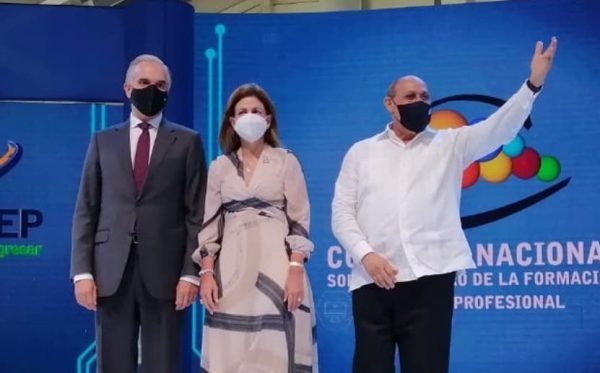 Vice President Raquel Peña announced the support of the government to its National Technical Professional Institute (Infotep) to train locals in Industry 4.0 technologies. The Vice President attended the presentation of findings of the National Consultation on the Future of Vocational Technical Training. She remarked the commitment of the Abinader administration to back efforts of Rafael Santos, director of Infotep and the technical team that is working hard to adapt Infotep to the new times.
Infotep recently carried out a major survey to follow the evolution of labor force in the Dominican Republic and its changing profiles. The survey concluded that the great challenge for education and the labor market in the Dominican Republic could be to train some 10,000 technicians in sciences, mathematics and technology, areas that are driving Industry 4.0.
The world is changing and the Dominican Republic is no stranger to this reality, concludes the report. During the presentation of the results of the National Consultation, the international conference "Industry 4.0 and Vocational Training" was given by the general director of the National Learning Service (SENA) of Colombia, Carlos Mario Estrada Molina. The specialist said studies reveal that in the coming years between 80 to 85 million jobs will be lost in the world in traditional areas, but some 135 million could be generated in the careers of the future, such as robotics, artificial intelligence, big data, software and others.
The National Consultation on the Future of Vocational Technical Training concludes that the companies of the future (those of service, law, robotics, consulting and technology) will radically change their way of working after the pandemic, permanently incorporating hybrid modalities (telework and face-to-face).
Industry 4.0 technologies include: Industrial Internet of Things (IIoT), automation, artificial intelligence, big data and analytics, the cloud and cybersecurity.
Read more in Spanish:
Listin Diario
El Dia
Infotep
30 July 2021