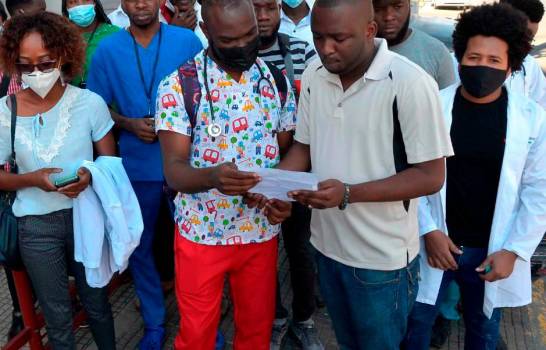 Last week, Haiti sent a special envoy to the Dominican Republic, ambassdor Daniel Supplice to attempt to patch up some of the issues relating to a heated exchange on Twitter. Among the issues was the indefinite suspension of the automatic renewal of the student visa automatic renewals for Haitian students in Dominican universities. These students, all together, compose the largest segment of foreign students at these universities, and they also represent a sizable portion of university funding. According to the envoy, Daniel Supplice, the Dominican government will reconsider the suspension of the visa program.
Supplice spoke to reporters in the office of the Haitian Prime Minister, Ariel Henry, on his week-long stay in the neighboring country. The former ambassador reported that President Luis Abinader appointed a committee to study the situation, and added that Haitian students should not be the ones to suffer because of diplomatic tensions.
At the moment of his statement, neither the Ministry of Foreign Relations nor the communications office for the Presidency in the Dominican Republic had reported on the visit by Supplice.
The suspension of the automatic renewal of the student visas program came after a spat of tweets between Abinader and the Haitian foreign minister Claude Joseph on the social media platform regarding the tension along the frontier and the recent restriction on immigrations, and access to hospitals for illegal aliens, as well as a program to try and enforce a labor law that requires and 80/20 proportion for Dominican/foreign workers in Dominican companies. This move would seriously hamper agriculture and construction sectors as well as many service industries.
Read more in Spanish:
Diario Libre
22 November 2021