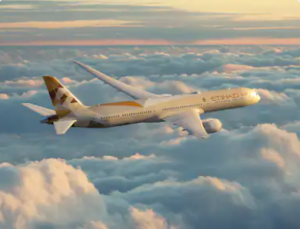 The United Arab Emirates and the Dominican Republic signed on 21 November 2021 an air services agreement to promote passenger and cargo air traffic between both countries. Jose Marte Piantini, president of the Civil Aviation Board (JAC) traveled to Dubai for the signing.
Marte Piantini highlighted the agreement opens new opportunities for economic growth.
Marte Piantini described the signing of this Protocol of Amendment to the Air Services Agreement as a significant advance for the national aviation sector.
Present for the signing were Dominican ambassador to the United Arab Emirates, Julio Castaños Zouain, and the JAC board member, engineer Nasim Antonio Yapor Alva and Paola Aimée Plá Puello, secretary of the JAC. Signing for the United Arab Emirates was the director-general of the General Authority of Civil Aviation, His Excellency Saif Mohammed Al Suwaidi. Also Khalid Humaid Al Ali, senior director Air Transport Department, GCAA; Valerie Browne, lead air transport specialist, Air Transport Department, GCAA; Maryam Othman, senior specialist Air Transport Department, GCAA; Faten Abu Zahra, administrative officer Air Transport Department, GCAA; Mona Al Jenabi, administrative assistant Air Transport Department, GCAA and Jawaher Al Adbouli, air transport officer, Air Transport Department, GCAA.
During the framework of the Dubai Airshow, the JAC delegation met representatives of Etihad Airways. The United Arab Emirates airline could initiate seasonal operations on the route Madrid (MAD)/Santo Domingo (SDQ)/Madrid (MAD), on connecting flights from Abu Dhabi (AUH), taking advantage of a codeshare with Air Europa.
Marte Piantini met with Mohammad Abdulla Al Bulooki, Chief Operating Officer of Etihad Airways. Also with Ahmad Al Khamis, senior manager for Aeropolitical Affairs and Aeropolitical and Industrial Affairs of Emirates Airlines.
Read more in Spanish:
Civil Aviation Board
Z101 Digital

23 November 2021