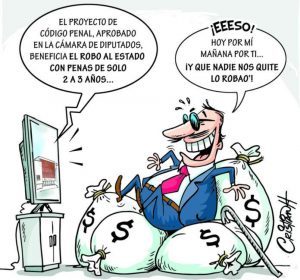 The executive vice president of the Institutionality and Justice Foundation (FINJUS), Servio Tulio Castaños, complained that the Penal Code bill has but two and three years in jail to penalize acts of corruption in government. He spoke on the occasion of Ethics Day.
"It is striking that today that we are celebrating the day of Ethics, the Chamber of Deputies yesterday approved a Penal Code, where in Article 303, which has to do with corruption, the penalty for whoever commits a crime of corruption is but 2 to 3 years," Castaños observed.
The penalties in the Penal Code were reduced from 10 years in the current version.
The president of the Justice Committee of the Chamber of Deputies, Alexis Jiménez defended the reduction saying that the new Penal Code contemplates accumulation of charges and thus those who are accused of administrative corruption can at the...