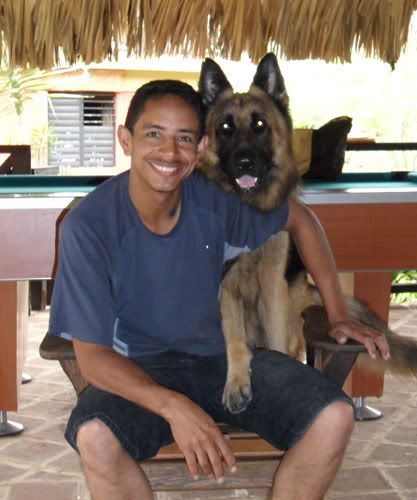 Yesterday we received the sad news that German Shepherd Argos has passed away. Argos was the compagnion of Molina Ramon and together they formed a great team. Molina Ramon is a firemen in Santo Domingo and is President of the group Busqueda Y Rescate Republica Dominicana and together with Argos, they did everything to show people all over the Island and beyond what a great SAR team could do for its country and its people. Molina and Argos were present at the rescue actions in Haiti and were continiously training to become a still better team. Molina is the driving force behind the BYR group on the Island and Argos accompagnied him everywhere to show people what they could do together.
As dog trainers ourselves we came in contact with Molina and Argos on several occasions, we did during the past two years many demo's together with Argos and Acira, organized seminars together and whenever possible we trained together.
It was alway's a joy to meet up with them.
Just previous weekend we met each other again at the PUCMM in Santiago to give a demo for the students there and Argos was full of life and enjoying as usual all the attention and gave as alway's the best of himself.
Argos, you will be very missed but you will remain in our hearts forever.
Molina knows he has the support and thoughts of his many friends from all over the world.
Its a very sad loss...rest in peace friend...
Last edited by a moderator: