Administrator
Staff member
Jan 9, 2009
20,147
1,525
113
Computer translated:
Dominican R. lifts cruise restrictions beginning November 1​
Santo Domingo, Oct 30.- The Dominican Government announced this Friday that starting next Sunday, November 1, the restrictions on cruises imposed since March due to the pandemic will be lifted.
The Minister of Tourism, David Collado, made the announcement during a press conference in which he announced that sanitary protocols will be applied in ports, similar to those applied in airports since their reopening on July 1.
"The Dominican Republic is ready" to receive tourist cruises, said the minister at the press conference.
The first ports to receive cruise ships are Santo Domingo, Puerto Plata (north) and La Romana (east), some of which have already confirmed several ships until the end of the year.
Collado said that this Thursday the country received the certification of the Bureau Veritas, one of the prestigious internationally, which endorses the sanitary protocols that are applied at airports.
Before the pandemic, the country was in a process of growth, consolidation and increased investment in the cruise tourism industry, the minister said.
Ten years ago, 211,000 cruise passengers arrived in the country in some 264 ships; In 2019, 1.1 million tourists arrived on 536 ships, a growth of over 400%.
The minister attributed this growth to the investments made in the Puerto Plata (north) and Cap Cana (east) docks and the revival and revitalization of the port of La Romana (east).
However, Collado pointed out that the Dominican Republic is not the leader in Caribbean cruise tourism due in part to the loss of dynamism in some ports "due to the lack of a comprehensive strategy for their development."
The minister noted as "a priority to advance in the diversification" of Dominican tourism products for the consolidation of the destination.
"We are going to work hand in hand with the entire Caribbean region to turn it into a multi-destination offer, where the Dominican leadership in aviation will be part of the strength," said Collado.
At the same press conference, the director of the Dominican Port Authority (Apordom), Jean Luis Rodríguez, referred to the process of preparing the ports to receive cruise passengers, stating that, "after so long, it is time to sail but safely ».
«The lifting of this measure after nine months of suspension due to the pandemic has the guarantee of a strong protocol and supervision in ports by all the competent authorities to guarantee not only the health of the cruise passenger but also that of all passengers. Dominicans, "Rodríguez said.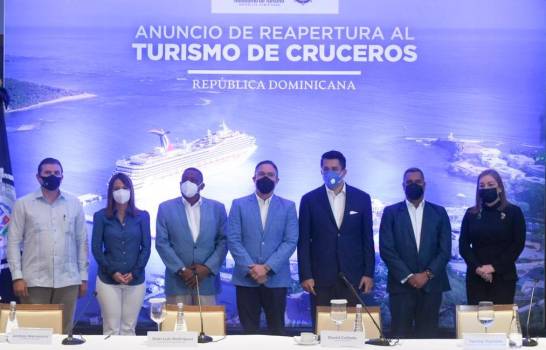 Santo Domingo, 30 oct.- El Gobierno dominicano anunció este viernes que a partir del próximo domingo, 1 de noviembre, se levantarán las restricciones a los cruceros impuestas desde el mes […]
almomento.net