BY
GEOVANNY VICENTE-ROMERO
| APRIL 18, 2022
President Luis Abinader has high approval amid high growth—but changing economic conditions are a threat.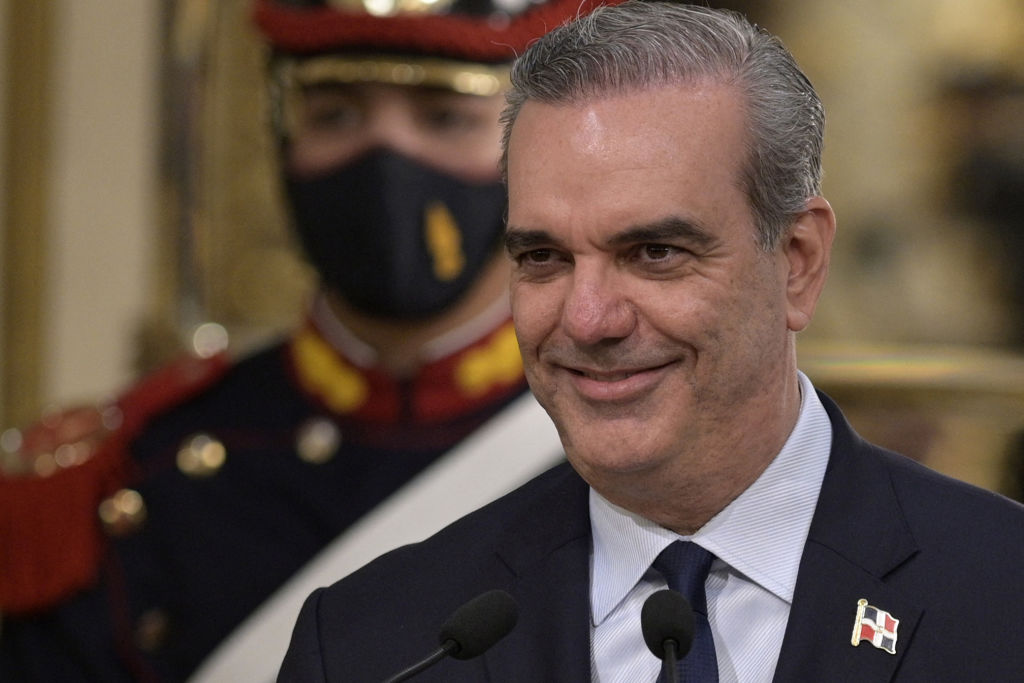 Dominican President Luis Abinader speaks after signing a bilateral agreement with Argentina in Buenos Aires on Mar 9.Juan Mabromata/AFP via Getty Images
9
"The best is yet to come": These six words are frequently heard from Dominican Republic President Luis Abinader, who is enjoying one of the highest approval ratings in the region at 70%. But as Abinader's term nears the halfway mark, this rosy outlook will be put to the test as the Dominican Republic suffers from region-leading inflation amid global price hikes. Time will tell if Abinader can usher in the new era of growth and prosperity he is promising.
The Dominican Republic has already experienced robust growth over the last 25 years, seeing its economy expand by an average of
6.1%
per year, according to the World Bank. The Dominican economy contracted by 6.7% in 2020 but bounced back with 12.3% growth in 2021. And the longer-term picture remains a positive one: In July 2020, the Organization for Economic Cooperation and Development (OECD) ranked the Dominican Republic the
fastest-growing economy
since 2010 in Latin America and the Caribbean.
There's room for improvement, too. The OECD identified possible reforms to the country's development model, such as expansion in agribusiness. Given recent interest in the U.S. to relocate supply chains closer to home, and the Dominican Republic's strategic location, the country has an opportunity to harness
interest
in a potential logistics hub close to the U.S. mainland. Abinader has already implemented a
new customs law
to improve the regulatory framework and create efficiencies in a country that had already been showing
record collection figures
under the current administration.
Growth looks likely to continue, led by increased trade and
customs collections
,
recovery
in tourism and investor confidence. And fresh interest in nearshoring after the disruptions to global supply chains caused by the pandemic could make the Dominican Republic an attractive site for U.S. investment, given its proximity. Already, the country received a record $1.4 billion in foreign direct investment from the U.S. in 2021, an increase of 87% compared to 2020 (or 45% compared to 2019), according to figures shared by
ProDominicana
.
Under Abinader's leadership, the Dominican Republic has been leading the way on regional trade integration. Developed in collaboration with Costa Rica's outgoing President Carlos Alvarado Quesada and Panama's Laurentino Cortizo, the
Alliance for Development in Democracy
aims to make the Dominican Republic more integrated with international trade by promoting exports and attracting more foreign investment. The initiative has won praise from the
White House
in the lead-up to the Summit of the Americas in June 2022.
Today, the Dominican
economic miracle
is still alive, thanks to still-booming
tourism
. Abinader inherited a robust tourism sector and has taken steps to further enhance this component of the economy. The country has become a high-profile tourist destination favored by celebrities such as
the Clintons
,
Kim Kardashian
and other celebrities who have chosen the country for work and play. Golf tourism is gaining strength as hotels, especially in Punta Cana, host high-level international events. The Dominican Republic is also a fast-growing
film destination
, helped along by tax incentives over the past decade.
The government has
contracted
for a large convention center in Santo Domingo. The Dominican Republic also attracts more budget-conscious tourists looking for all-inclusive stays. But the war in Ukraine presents issue for getting tourism levels back to their pre-pandemic heights: There has been a marked drop in the flow of tourism from Russia and Ukraine, which together
made up 10%
of the Dominican Republic's visitors as recently as January 2022.
Inflationary clouds on the horizon
This optimistic vision can only be achieved with measures to contain inflation. A
report
published in February 2022 by the Central American Monetary Council noted the Dominican Republic's 9% inflation surpassed all other countries in its category, including Nicaragua (7.8%), El Salvador (6.7%), Honduras (6.4%), Costa Rica (4.9%), Guatemala (3.0%) and Panama (2.7). This inflation is directly related to high commodity prices, such as for oil and gas, generated by the slow post-pandemic recovery of the supply chain and exacerbated by the conflict between Russia and Ukraine.
As
pandemic restrictions ease
, inflation rears its head, representing a different kind of contagion.
Inflation was already a problem before Vladimir Putin's war, but the conflict
poses
additional obstacles to economic progress, related to tourism but also in the form of elevated prices for oil and raw materials.
Abinader has won strong approval with his focus on anticorruption measures—but now is the time to get to work and stop blaming previous administrations for ongoing problems. That's the way to make sure the best is, indeed, still to come.
—
Vicente-Romero
is a Washington, D.C.-based political strategist, consultant and lecturer at Columbia University's School of Professional Studies.
Tags:
Dominican Republic
,
economic growth
,
Luis Abinader
,
Tourism
Like what you've read?
Subscribe to AQ for more
.
Any opinions expressed in this piece do not necessarily reflect those of Americas Quarterly or its publishers.