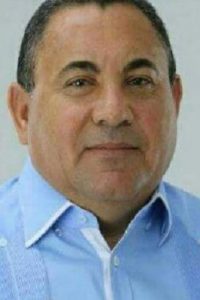 Former Azua mayor Yamil Abreu Navarro was arrested yesterday. As reported, the Criminal Chamber of the Supreme Court of Justice (SCJ) is setting a hearing to determine his extradition to the United States. He was the mayor of Las Lagunas in southwestern Azua from 2016 to the end of his term in April 2020. He is accused of belonging to the Mexican cartel of Sinaloa and of trafficking drugs to the United States.
Attorney General Jean Alain Rodriguez made the announcement indicating that Abreu served as director of the Modern Revolutionary Party (PRM) political campaign in the south. This charge was denied by the PRM that indicated that legislator Wellington Arnaud was the director of the campaign in the south.
Attorney General Rodriguez He said the National Drug Control Agency (NDCD) had arrested Navarro.
The leadership of the PRM issued a note whereby it stated that any member of the organization who violates institutional and legal rules must personally assume the consequences, because "all citizens are responsible for their actions before the state." The party said they learned of the accusations by the media.
"The PRM reiterates its adherence to the rule of law. We have been firm in taking disciplinary action against members who have violated the ethical and moral values we hold dear," says the press release on the matter.
As reported, according to the US Federal Court the former mayor is part of an international drug network operating in Mexico and the United States, and is dedicated to the trafficking of heroin and other controlled substances, money laundering, illegal movement and transactions of money, among other illicit activities.
Read more in Spanish:
Diario Libre
11 June 2020