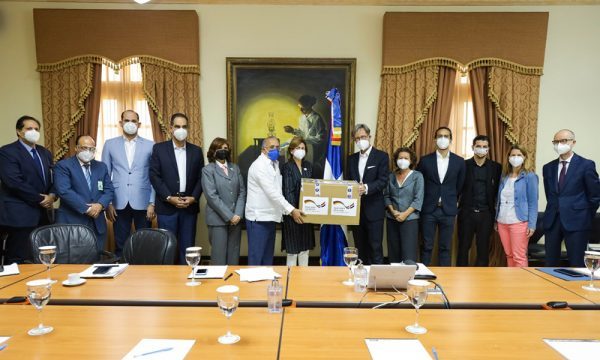 Germany ambassador Volker Pellet delivered 100,000 PCR test kits to the Dominican Republic on Tuesday, 8 December 2020. Vice President Raquel Peña, who heads the health cabinet of the Abinader administration, received the donation. A delegation of health experts from the Charité Institute of Virology of the University of Berlin and an epidemiology specialist from the Bernhard Nocht Institute of Tropical Medicine of Hamburg came to present the donation. The PCR kits are produced by the German company TIB Molbiol.
Health Minister Plutarco Arias said at the ceremony that the visit of the specialists is to help identify solutions for prevention and containment of the pandemic.

The German Society for International Cooperation (GIZ) coordinated the visit. The team will organize training for Dominican lab specialists in collaboration with the Epidemiology Agency (Digepi).
Dr. Andres Moreira Soto of the Charité Institute of Virology of the University Hospital of Berlin leads the visiting team of German specialists.
Read more:
El Caribe

9 December 2020