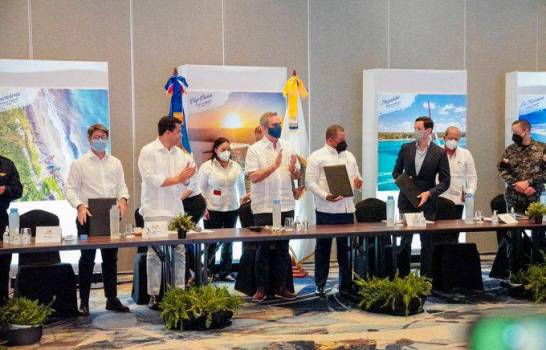 The media had been warning about the differences and threats of union-association affiliates to take violent actions to avoid losing passengers to the low-cost Uber taxi drivers in Punta Cana. When a union driver crashed a Uber taxi to impede a tourist's transport in Bavaro, the situation was recorded and shared on social media. The tension between Uber taxi drivers and union-association affiliates in Punta Cana had been escalating for weeks.
President Luis Abinader himself intervened. He presides the Tourism Cabinet. He participated in the signing of an agreement between Uber, represented by Carlos Ferdinand, the National Land Transit Institute (Intrant). President Abinader and the Association of Hotels & Tourism Association (Asonahores) witnessed the signing of the memorandum of understanding. Tourism Minister David Collado said the agreement is a step towards regulating Uber operations in the country, principally in tourism zones, to guarantee order, development, and free enterprise. Details of the agreement were not shared in the media.
Last week, Tourism Minister David Collado said the aggressive taxi driver who was defending his "turf" would be prosecuted. Collado said the government would not tolerate violent actions. Collado expects the agreement to provide the framework for conciliating both parties' interests, especially in tourist zones.
Basically, the problem is that union-association taxis have much higher prices than what Uber taxis offer in the area. The unions impede the Uber taxis from picking up passengers inside hotels.
Abinader remarked during the signing that the violent events between these transporters have been going on for years "and it is up to us to resolve the situation". "Uber has been operating for years without being able to register legally, something we have insisted on, and we are reaching that agreement," the head of state added.
The government has asked Uber to not provide "services in airport environments."
When in Punta Cana, Abinader visited the renovated Macao beach promenade and attended the inauguration of the first 60 units of the residential phase of a hotel-residential complex in Cap Cana, Lago Beach & Golf Cap Cana.
The Abinader administration has offered major facilities favoring taxi drivers affiliated to business associations known as unions that are known to violently defend their turf from non-affiliated competitors.
On Sunday, 21 March, 33-year old taxi driver Juan Félix Calderón González, was arrested for his actions against the Uber taxi driver.
Read more in Spanish:
Diario Libre
N Digital
El Nuevo Diario
El Caribe
Noticias SIN
Hoy
21 March 2021